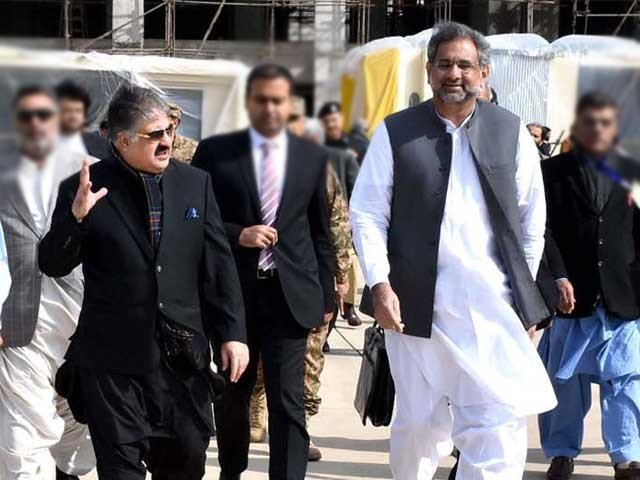 ---
QUETTA: Prime Minister Shahid Khaqan Abbasi has announced a ten-year equalisation development package for Balochistan to bring all its cities and towns on a par with other developed areas of the country.

Abbasi, who was visiting Balochistan's provincial capital on Tuesday, announced this package after presiding over a couple of meetings with regard to law and order situation in the province and the various development projects under way there.

Balochistan Governor Muhammad Achakzai, Chief Minister Sanaullah Zehri, federal ministers General (retd) Abdul Qadir Baloch and Mir Dostain Khan Domki, Home Minister Sarfaraz Bugti, National Security Adviser Nasser Janjua, Commander Southern Command Lt Gen Asim Saleem Bajwa and Frontier Corps IGs Major General Nadeem Anjum were among those who attended these meetings.

Talking to media after the meetings, the PM said people of the province would be provided all basic facilities including that of education, clean water and health under the equalisation package.

"The federal and provincial government will provide equal funds for the ten-year equalisation development package which will be launched during the current year.

Balochistan to install 30,000 solar-run tube wells

"Under the package basic facilities such as gas, education, health and potable water will be provided to every union council in the province. Rs20 billion will be spent on the development projects for the provision of these basic facilities," he added.

He said during the meeting, Balochistan CM proposed launching the development package, which the federal government accepted. "The federal government will extend all help and cooperation for the implementation of the ten-year development package," he added.

To a question about the term of the PML-N government, Abbasi said the present government would complete its term in June next year and after that the process of election would be started according to the Constitution.

He said he would visit Balochistan after every two months to review the pace of work on development projects launched by the federal and provincial governments.

Earlier, Abbasi while presiding over the meeting on development projects said the socio-economic development of the people of Balochistan was a priority of the federal government.

Additional Chief Secretary Development Qamar Masood presented a detailed briefing on the development projects including those related to the CPEC, tube-wells solarisation, special economic zones, water management projects and oil and gas exploration projects.

During the meeting on law and order, the PM said sacrifices rendered by law enforcement agencies to bring peace in Balochistan were unmatched. He reiterated that the federal government would provide full support to the Balochistan government for improving the law and order situation.

Balochistan Home Secretary Dr Muhammad Akbar Harifal presented detailed briefing on the law and order. Security measures for Shia pilgrims were also discussed in detail. The meeting offered prayers for the people martyred in the recent terror incidents in Quetta.