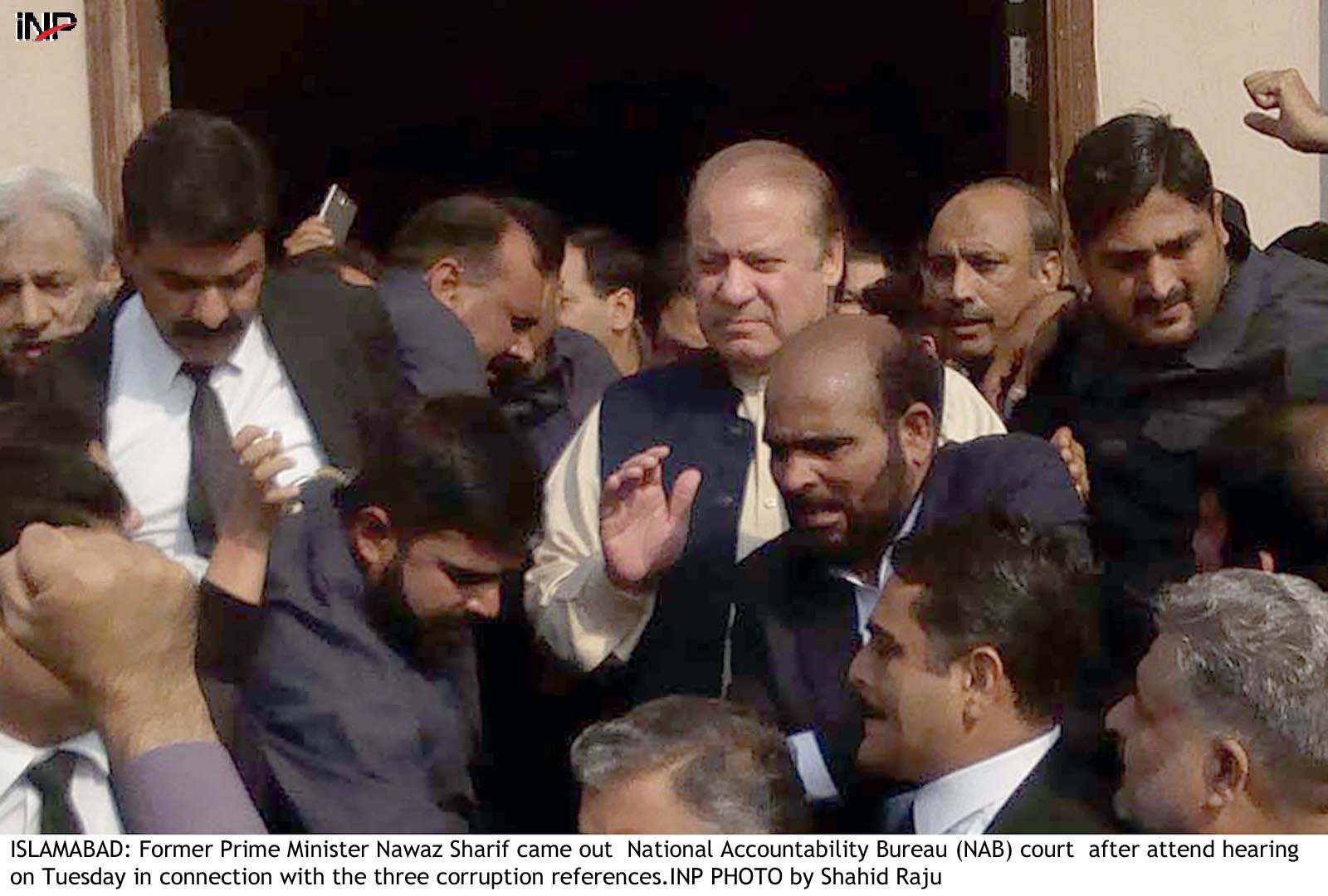 ---
ISLAMABAD: The Islamabad High Court (IHC) on Tuesday turned down deposed prime minister Nawaz Sharif's plea asking for a stay on an accountability court's proceedings in three corruption references filed against him and his family by the National Accountability Bureau (NAB).

However, IHC's division bench comprising Justice Aamer Farooq and Justice Mohsin Akhtar Kayani issued a pre-admission notice to NAB for November 13 on three petitions from Sharif challenging trial court's November 8 decision while dismissing petitions seeking a single trial for the three separate references.

Court reserves verdict on joint trial plea

Sharif's counsel, Azam Nazir Tarrar, requested the court for a stay on proceedings before the trial court but it was turned down. The references are fixed for hearing today (November 15) before the accountability court.

Through the petitions, Sharif challenged the trial court's order requesting IHC to set it aside, as his application for framing a joint charge in three references was dismissed and the charges were framed separately while rejecting the petitioner's prayer for deletion of section 9(a)(iv) of NAB Ordinance, 1999.

Sharif has sought IHC's direction to the trial court for framing a joint charge and conducting a single trial against him in accordance with section 17 (d) of NAO, 1999.

In the alternate, the counsel prayed the court to issue directions for framing a joint charge in the Flagship Investment and Al-Azizia & Hill Metals Establishment references while the Avenfield Flats reference may be tried separately.

In addition, he said, the accountability court may further be directed to decide all references together in order to avoid conflicting judgments. He also requested to suspend proceedings till charges are framed jointly but it was not accepted.

He made state through NAB and the judge of accountability court respondents in the petitions.

Court set to declare Sharif's sons proclaimed offenders

In the petition, Tarrar said that each of the three references are supplemented by the same nine volumes comprising JIT report, six out of nine witnesses in one reference are the same, six out of 13 in another and two out of 10 in the third are common.

He said petitioner's defense vis-à-vis the allegations in each of the three references is substantially the same, adding that the impugned order is based on presumptions and presuppositions as it envisages "complications" and "confusions" if either supplementary reference(s) are filed by NAB or "other factors" which may arise during trial.

"The learned Accountability Court, however, erroneously dismissed the petitioner's application for joint trial, for the sake of its own convenience and to avoid any difficulty that it may face during trial, especially in respect of "other factors" which are not even specified in the impugned order," he stated.

The trial court has erroneously concluded that the offences alleged in the three references are not of the same kind, he said, adding that the allegation in all the references is the same – petitioner or his dependents and benamidars own, possess or have acquired respective assets which are disproportionate to their known sources of income.

On November 8, the accountability court held that there will be three references and three trials together instead of one joint trial. While turning down Sharif's request to conduct a single trial, the court had held that Sharif would stand trial separately in three NAB references.

Subsequently, the judge had formally indicted the ousted premier, his daughter and son in-law. They had pleaded 'not guilty' to all the charges.

The court would resume hearing today (November 15) wherein it is expected to record statements from witnesses.


COMMENTS
Comments are moderated and generally will be posted if they are on-topic and not abusive.
For more information, please see our Comments FAQ