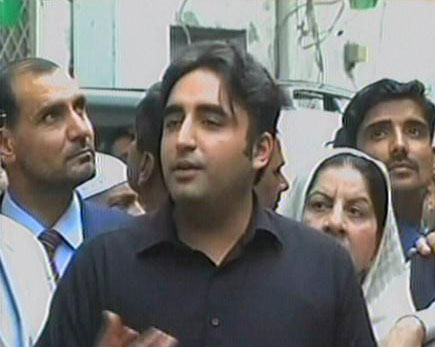 ---
[fbvideo link="https://www.facebook.com/etribune/videos/2087865734563775/"][/fbvideo]

Pakistan Peoples Party (PPP) chief Bilawal Bhutto said on Monday that his political rivals can't come in the way of the party's win in the 2018 general elections.

"No matter what Pak Sarzameen Party (PSP) and Muttahida Qaumi Movement (MQM) do, they won't be able to keep PPP from winning the elections [in Sindh]," Bilawal told journalists in Lahore.

His statement came a day after All Pakistan Muslim League (APML) head Gen (retd) Pervez Musharraf said an alliance comprising MQM-Pakistan and PSP under the APML's umbrella could beat PPP in Sindh.

In his video message, Musharraf said such an alliance could take on-board Pir Pagara and other political forces in the province. He also said it could bring forward blocs of Pakistan Muslim League-Nawaz (PML-N) and PPP under its umbrella in Punjab.

Alliance of MQM-P, PSP and APML can beat PPP: Musharraf

"Some people want to restrict the PPP but it won't happen," he said. "No one can stop us from securing a victory in the 2018 general elections."

Bilawal added: "[On the other hand] Musharraf is an absconder and will be brought back to the country handcuffed to face the cases of treason and murder filed against him."

Expressing reservations on the nationwide census, the PPP chief said six million people were not even counted in the province during the headcount.

Flaying Imran Khan for demanding early elections, Bilawal said the forthcoming polls should be held on time. "We have differences with the PML-N but we want general elections on time." Democracy needs to remain on track at all costs, he added.