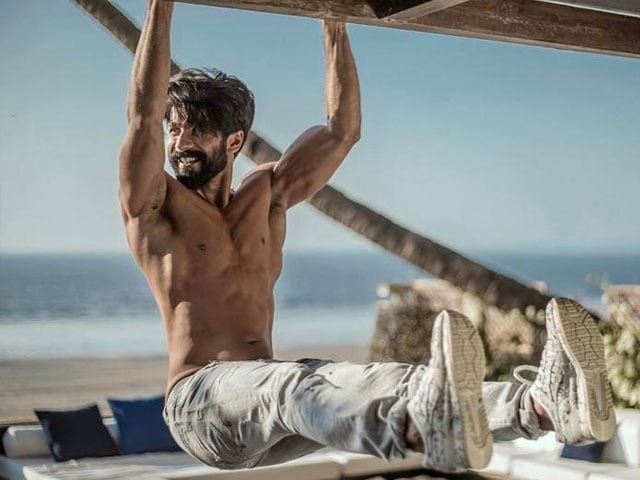 ---
Shahid Kapoor is Bollywood's boy-next-door, only with a killer smile, a body to die for and stellar acting skills.

The Jab We Met actor was first spotted in a music video and went on to seize millions of hearts with his debut Ishq Vishk, 2003. Shahid's cinematic potential was never put to question, albeit he had to battle a series of box-office failures until his brilliant return in Haider, 2014. 

Shahid Kapoor's family vacay to London screams holiday goals

While his career might have faced some ups and downs, his six-pec body has always grabbed eye-balls.

So, what is the secret behind his shapely body and rock-hard abs?

In Padmavati's latest song, Ek Dil Ek Jaan, we see Shahid shirtless and it's a sight hard to miss... here's what you can do to get a body pretty close to his.




According to Bollywood Life, the actor has always maintained a very thorough fitness routine. A source close to the actor spills beans on what the actor eats in a day and how much time does he spend in the gym.

First picture of Shahid Kapoor's daughter is cuteness personified

"The initial plan was to not show too much of Shahid's body but when Sanjay Leela Bhansali saw how much Shahid had worked on his hot-bod, he decided to put a lot of shirtless scenes showing off his bare chest and six packs. Even in the new song, 90 per cent of the song will have Shahid bare-bodied," said the source.




Talking about his potential target, Shahid's trainer Samir Jaura added, "It took him about four months to get into the shape he wanted to be in. He was extremely focused, determined and totally fuss-free. I understood his body-type and what he wanted after I had a couple of meetings with him. Shahid is playing a king so he had to look big and fuller. He doesn't need to be huge in terms of body-type, but he had to behave in a kingly manner. Shahid looks mindblowing as the Maharaja and his costumes are extremely elegant."

Boss babies: Next generation Bollywood babies are all the rage right now

Discussing the Haider actor's diet, Jaura stated, "Shahid was on a very low-carb diet and obviously, it was a completely vegetarian diet. It was difficult. But we had to put him on a diet like that because he had to look leaner and lose a little weight too."


Talking about his diet plan for an entire day, Samir reveals, "There was a lot of brown rice, quinoa, and broccoli. He would have five-six meals a day. So for breakfast, he would have oatmeal and dry fruits. At around 11.30 am, he would have his protein shake with some fruits. After that, he would have rajma but with brown rice, broccoli, and quinoa. For evening snacks, he would have moong or chickpea salad or peanuts. Then, he would hit the gym and have another protein shake. Then, straight head for dinner which would either be a salad with some pulses and green veggies or just a soup."
Samir explains, "Shahid did a lot of boot camp kind of training on the beach, which had him working out with ropes, sandbags. Sometimes, he would train on a ladder, it was more like how Army men train."
Have something to add to the story? Share it in the comments below.