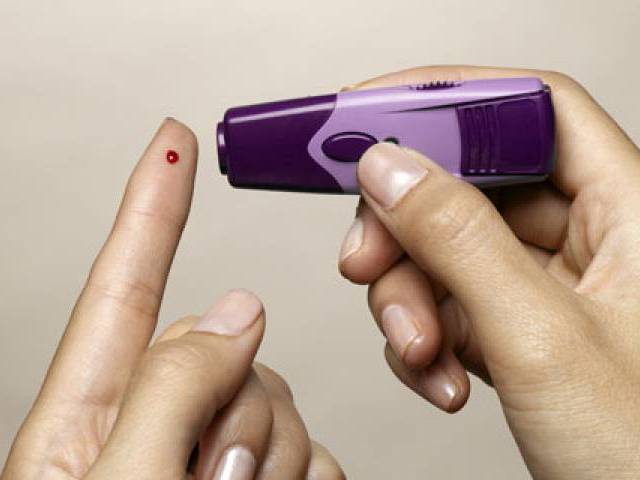 ---
LAHORE: Health experts say only lifestyle modifications, awareness and education can prevent people from diabetes as according to data, 35 million people in Pakistan are diabetic and the number was on the rise.

While talking to The Express Tribune on Sunday, Dr Umair Ashfaq, a diabeties expert, said the World Diabetes Day 2017 would focus on women and diabetes, so that our health systems must pay adequate attention to the specific needs and priorities of women and all women with diabetes should have access to the essential diabetes medicines and technologies, self-management education and information they need to achieve optimal diabetes outcomes.

Over 35m Pakistanis above age 20 suffer from diabetes

"Two out of every five women with diabetes are of reproductive age, accounting for over 60 million women worldwide," he said.

"Diabetes is the ninth leading cause of death in women globally, causing 2.1 million deaths per year while women with type 2 diabetes are almost 10 times more likely to have coronary heart disease than women without the condition."

He said all women with diabetes should have access to pre-conception planning services to reduce risk during pregnancy.

According to the International Diabetes Federation (IDF), it is estimated that globally as many as 193 million people, or close to half of all adults currently living with diabetes, are unaware of their disease. Most of these cases are type 2 diabetes.

There are currently over 199 million women living with diabetes. This total is projected to increase to 313 million by 2040, the data added.

Symptoms

Dr Umair Ashfaq said increased thirst, urination, hunger, fatigue, blurred vision, sores that do not heal and unexpected weight loss are the main symptoms of diabetics.

"One should pay attention, if these symptoms happen to them," he suggested.

"Eating sugary foods and refined carbs can put at-risk individuals on the fast track to developing diabetes," he added.

In people with pre-diabetes, the body's cells are resistant to insulin's action, so sugar remains high in the blood. To compensate, the pancreas produces more insulin, attempting to bring blood sugar down to a healthy level.

He further said that diabetes often can be so mild that you might not even notice them. Many people with type 2 diabetes have no symptoms. Some people do not find out they have the disease until they have diabetes-related health problems, such as blurred vision or heart trouble.

"It is also the responsibility of the government that like Hepatitis campaign, there should be also campaign for awareness of diabetics so that we can prevent our future generation from this disease," he concluded.

Published in The Express Tribune, November 13th, 2017.
COMMENTS
Comments are moderated and generally will be posted if they are on-topic and not abusive.
For more information, please see our Comments FAQ