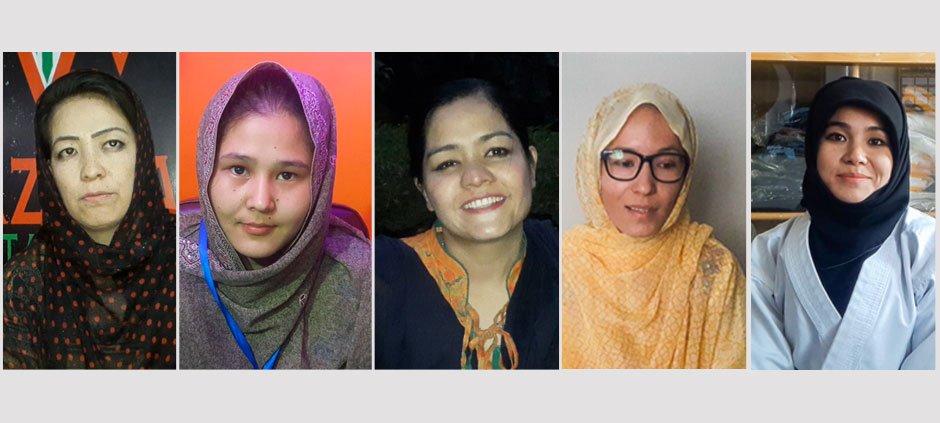 ---
QUETTA: Quetta is perhaps the only city in Balochistan where one witnesses a relatively larger number of women in public places --- but the figures still remain fairly dismal, compared to other major Pakistani cities.

Now, a number of women from Quetta's Hazara community are coming forward to join professions that were once considered taboo for women: the culinary business, the professional arts, the judiciary, politics and sports. As violence against the Hazara community continues unabated – Balochistan's Home Department says over 2,000 Hazaras have been killed in the past 14 years – more women are left with no choice but to be the main breadwinners in their families.

A restaurant in Quetta's Hazara Town is by women, for women

The Express Tribune speaks to some of these women, who are creating waves in their fields, and breaking the glass ceiling, one occupation at a time:


The Maverick


Hamida Ali Hazara is treading a path no other woman in Balochistan has previously endeavoured: she opened up the first-ever restaurant in Quetta, run solely by women --- and for women. The restaurant -- simply called 'Hazara Restaurant' – has been garnering a lot of media attention, and has gained a fair amount of popularity in recent weeks.

"I have always worked for the cause of women's empowerment," says Hamida, who set up a non-profit organisation – Hurmatty Niswa Foundation – two years ago.




The purpose of the nonprofit organisation is to work on education, health, sports and gender-related issues. Additionally, Hamida wanted to economically empower "women who lost their family members in terrorist attacks and were struggling to feed their family and children."

Five women – two cooks and three servers – and two men are currently working at the Hazara Restaurant. "The men are responsible for the outdoor work," she says, adding and that it is "too risky" to send women out for delivery.

Hamida wishes that, like her, other women who claim to be "activists" should take up such initiatives for women's empowerment. "Women should not wait for others to help them. We must stand up and take part in society, in order to support our children and family."





Shutterbug




"We introduced Quetta's first female production house in Balochistan's tribal society because women often feel uncomfortable allowing male photographers to weddings and other ceremonies," says Nargis, a photographer at Lala Zar Digital Video Production.

Women in Hazara division continue to face violence

Along with her colleagues, Nargis decided to establish an all-women production house that also trains women with photography and videography skills. The initiative helps women to begin work in the field, and to support themselves and their families.




"Many people in our community feel more comfortable with female photographers and camerawomen; they allow them to film their families without hesitation."

Nargis adds that women are also being targeted by sectarian groups, so they can only provide their services within the two Hazara enclaves in the city.

"Hazaras are a talented community; we want to prove ourselves and we want to prove that Hazaras have raised the national flag in many fields internationally --- and will continue to do so."





Lady Justice




Jalila Hyder has been practicing law at the Balochistan Bar Council for seven years. She joined the bar at a young age, specialising in criminal litigation and human rights.

"I could not have done this without the support of my parents. Hazara women are reluctant to practice in this field, even though many have obtained a law degree."




Jalila has a passion for law, but the security situation makes it "very difficult" to practice. "I can't go to the court regularly, and I often have to take leave, due to threats and targeted killings." The deadly attack on August 8, 2016, has also increased the feeling of insecurity among lawyers.

"This is our country," Jalila says defiantly. "If we won't do our job, it's not like anybody else will come and do our job for us. Only we ourselves can fight for our people, as no outsider will come to the rescue."



 

The political worker




Sima Sahar is the president of the Hazara Democratic Party's Women Wing. She is also a social activist and studying in the media department of Sardar Bahadur Khan University in Quetta.

"Women make up half the contribution to any society --- but Hazara women lack opportunities due to the security situation. If women get equal opportunities, we can play a far better role in larger society."




Sima mentions that the Hazara community – men and women alike – live in a state of fear and feel increasingly isolated. "Even if I want to do something, I cannot. We worry about the safety of our family members all day and night --- and it takes a psychological toll on us."

Hazaras: The Rohingyas of Pakistan?

However, she tries to maintain her optimism that things will improve for future generations. "Women of Balochistan – whether they are Hazara, Baloch or Pakhtun – have an important role to play in the development of society. All they need is a platform and a safer environment."



 

The Karate Kid




Shahida Abbasi   began playing karate in 2005, at a club which was located in the same street where she lives. "I initially started playing for my own fitness --- and for self-defence purposes. I faced a lot of opposition back then, but never from my family." She realised her prowess and started playing competitively soon afterwards, winning medals for Balochistan, in national championships. "I received an offer from WAPDA to play for their club. Along with two of my friends –Naz Gul and Nargis – I began playing for the province."

The friends were then selected for the national team, and were given the opportunity to play for the country. Their first international tour was in Dubai, "but this tour was just for self-defense". Nevertheless, the experience was a rewarding one.




Shahida and her friends also went to India to play at the South Asian Games and the Islamic Games, before participating in the Asian Games in Sri Lanka. It was here Shahida won four bronze medals. "I am thankful to the federation of karate for providing me the opportunity to represent Pakistan on an international level."

"Few people want their daughters to come out and play karate, so I have been very fortunate. My coaches guided me on the right track, and my family always supported me. More and more girls are coming out to watch us perform --- and now, we have more girls than boys in our karate club.


COMMENTS (1)
Comments are moderated and generally will be posted if they are on-topic and not abusive.
For more information, please see our Comments FAQ