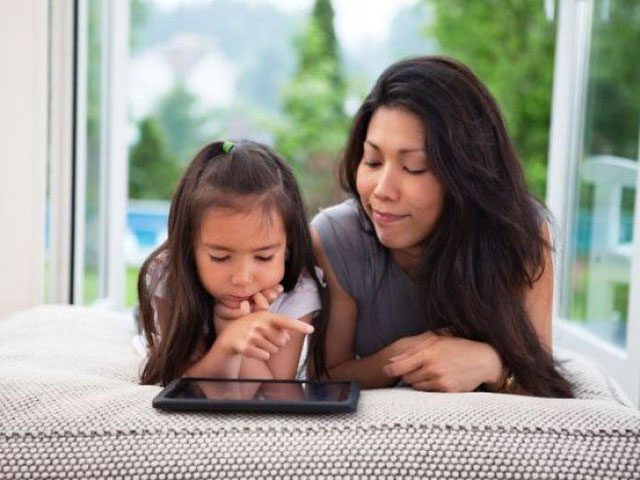 ---
While giving children unfettered access to phones, tablets and the internet is every parent's personal decision, you should at least be wary of the content your children consume. Not everything online is evil and not every app was created with the intention to disturb or corrupt but many provide an opportunity to make bad choices.

For children, the internet is a fantabulous space, filled with exciting games and funny videos but they are not aware of things like online privacy, internet safety and basic online manners and it is up to us to teach them.

Kids with mobile phone addiction in danger of eye problems, says doctor

Just like real world, everything has consequences

You have to teach your children that what is wrong or bad in the real world is also wrong or bad on the internet. Anonymity does not mean that they can go online and harass, bully or abuse people. Would they go up to a person and do that to their face? Only cowards are trolls.

The internet is permanent 

Once anyone or children post something online, it is there for the world to see. You can delete it but there might still be copies of it somewhere. A stupid post now can haunt you in your future.

Passwords are important defence 

One of the key things to teach children is how to keep a secure password. Help them create a smart password so they can secure their accounts.




Stranger danger 

Pedophiles exist online just like they do in the real world. Educate your children to inform you if they feel uncomfortable or threatened. Teach them to never accept friend requests from unknown people and to keep personal details like phone numbers and addresses off social media.

No private devices or computers 

Keep the computers in an open and more visible space of the house and not your children's bedrooms.

Limit their online time 

Put a time limit on how much time children can spend in front of their computer screens or on tablets. If you allocate two hours of screen time, let them decide when they should use it as long as it is reasonable.

Researchers build world's first battery-free mobile phone

Talk, do not punish

Be approachable and understanding, if you trust your children, they will trust you. If you discover your children doing something wrong online, it is better to sit with them and discuss.

Keep an eye out

It is good to trust your children but monitor what you can. You do not have to be nosy or invade their privacy, just be vigilant. Become their friend on Facebook, follow them on Instagram and be snap buddies on Snapchat, this way you can monitor them without being intrusive.

Lockdown app store

For young children, lockdown the app store on your phones and tablets. If they want to download an app, they have to go through you. You can pick and choose the apps they will be spending time on.

Keep yourself updated

If you find your children using a service or an application that you know nothing about, take out the time to study it. You can even sign up for the service and try using it yourself. Whenever you buy a new computer, tablet or phone for your children, spend some time with it yourself to learn the ins and outs of the system.




So which apps, as parents, you should be worried about?

YouTube

One of the most widely used apps in the world; YouTube is a favourite amongst parents who wish to keep their little one occupied. You will see children across the country watching YouTube on their parent's phone, their eyes glued to its screen and their attention focused. Try taking away the phone and they throw a fit.

Laptops, tablets on airplanes: what's the threat?

Parents love YouTube due to its accessibility and its vast variety of content but it is one of the most dangerous apps for young impressionable children.

While Google monitors YouTube for inappropriate, disturbing and pornographic content, it is not a perfect system and a lot of it slips through the cracks. You can see for yourself. Start a child-friendly video and keep clicking on 'Related Videos' (as all children are apt to do) and you will find yourself in a very dark place.

YouTube Kids, billed as a child-friendly version of YouTube, is the same as well. It is filled with videos that either have little to no educational value or promote toys. A new development is the thousands of videos which on the surface look like versions of popular cartoons but contain disturbing and inappropriate content.

'Toys and Funny Kids Surprise Eggs' is one of the most popular channels on YouTube with over 5 billion views. Its landing page has pictures of popular characters like Peppa the Pig, Elsa from Frozen, Thomas the Tank and even the Minions but the videos on the channel feature the characters getting their limbs torn off, screaming in pain or even getting their teeth removed by force.

While you cannot monitor your child's usage of YouTube constantly, you can download the videos they like and let them watch in an offline environment.




Siri and Google Assistant

You might think that your children are too young to know what to search online but think again. My nephew loves the Scribblenauts game, it is a game where the user can generate objects by just typing them in and use them to solve puzzles. So for instance, you need a ladder to reach a certain point, you just have to write 'ladder'. It is a fun-filled educational game but the problem is my nephew cannot spell. He discovered that there is a way to activate voice recognition in the game and now he just says the name of the object he requires. Quite resourceful right? Not really, it is horrifying. Imagine your child hears a curse word and tries to use your phone to look it up. Do you really want to let him do that?

Mobile app helps China recover hundreds of missing children

Sarahah and Whisper

While Sarahah is a relatively new app, Whisper has been there for some time now. The apps largely serve as an online confessional; users are encouraged to share their secrets anonymously. What is troubling is the rampant use of abusive language and bullying behaviour.

Ludo STAR

A smash hit game that has taken over the nation, Ludo STAR 2017 is incredibly popular. Sadly it has become an avenue for men trying to pick up women. Start any game and if you are unlucky to be matched with a single male, you will be inundated with dirty messages and invitations to add them to your social media accounts.

Snapchat

Snapchat is one of those apps that still confuse parents. Basically, Snapchat allows users to take pictures and videos which can be edited to include filters and effects, text captions, and drawings and then share them with their friends. However, unlike other apps, photos and videos sent through the app are time limited. So the receiver can view them once or twice before they disappear. Snapchat is an engaging app when used appropriately. A lot of features tend to be 'opt-in' and you can, for instance, ensure your kids only contact their friends on the app. Whatsapp, Facebook Messenger and Instagram also have some Snapchat like features, so try to stay on top of your kids and occasionally check their settings to ensure they're not giving away information or being harassed or bullied.



Ameer Hamza is a freelance writer.