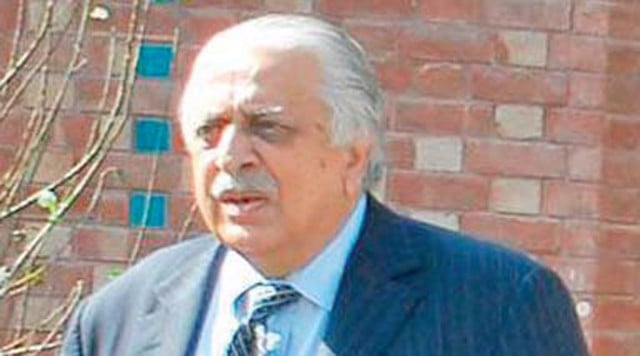 ---
KARACHI: The Pakistan Cricket Board (PCB) Chairman Ijaz Butt has lashed out at the senators probing match-fixing allegations at the Pakistan team and demanding his ouster from the board following a Governing Board (GB) meeting.

A sub-committee of the Senate Standing Committee on Sports blasted the PCB over its lack of organisation and 'incompetency' and had recommended that the current management should be replaced in order to get Pakistan cricket back on track. Butt, however, put the matter to rest despite a leaked video from the inquiry committee showing former coaches Intikhab Alam and Aaqib Javed suspecting individuals."There's no such thing as match-fixing," said Butt. "Even if my subordinate says something like this, he's talking nonsense.

If the senators are saying this then they are wrong as well. Handling such matters is not the PCB's or any other board's authority. It's the International Cricket Council's (ICC) job, they have full-time staff for that and the senators accused the board of mismanagement is because we refused to make an illegal, unnecessary payment to the contractors." The chairman, however, faced severe criticism from Senator Haroon Akhtar who was present at the meeting and denied his statements came as a result of PCB's reluctance to settle the contractor's dues. "This is sad to hear," Akhtar told Geo News. "I thought the chairman was inefficient but honourable. However, now I think he's a liar as well.

It's been less than 24 hours since the meeting and he's already forgotten what was talked about. His own committee had signed the required documents and made a payment pattern but the chairman backed out of it. We never said that we discussed matchfixing affairs in the meeting. We had a single point agenda [the contractors' outstanding dues] but match-fixing was discussed in a response to a question." Akhtar referred to the leaked video and the former coaches' comments on Kamran Akmal as evidence enough to say that match-fixing existed in the side, a notion that Butt vehemently denied. "It's in front of the nation, we saw videos and reports and we were given clear indication that it existed.

They talked to us about this earlier and said they could not say it aloud themselves so we agreed to say it since we're public representatives. "Butt's either lying or stating the wrong things. Its their [PCB's] job to investigate these things and putting it on the ICC is wrong." Butt, however, was questioned on why the harsh penalties were handed out to seven players if there existed no proof of match-fixing on the tours of Australia. "That's an internal matter and I don't need to disclose it to you," he replied. "I don't know why there is so much fuss over match-fixing and all these allegations.

Younus Khan is so mentally disturbed about it that his cricket career has been destroyed with these allegations." The GB had earlier showed complete faith in Butt's leadership, according to PCB's Chief Operating Officer Wasim Bari and that he was looking after the board in a proper way and according to the constitution. With the on-going matchfixing saga, the board will sit down with selectors tomorrow to name the squad for the Asia Cup and the tour of England.

WHAT THEY SAID THEN

Intikhab Alam, former coach

"That run-out I saw, I was flabbergasted. If you see it, it is shocking. The ball came, he was diving so far out, what can I say? We couldn't believe it. I heard many stories about matchfixing also."

Aaqib Javed, former assistant coach

"The run-out was shocking, really shocking. What did he do? How can this happen? I'm not sure but my suspicions are pretty high because of other things I know about the process."

Published in the Express Tribune, May 24th, 2010.
COMMENTS (2)
Comments are moderated and generally will be posted if they are on-topic and not abusive.
For more information, please see our Comments FAQ