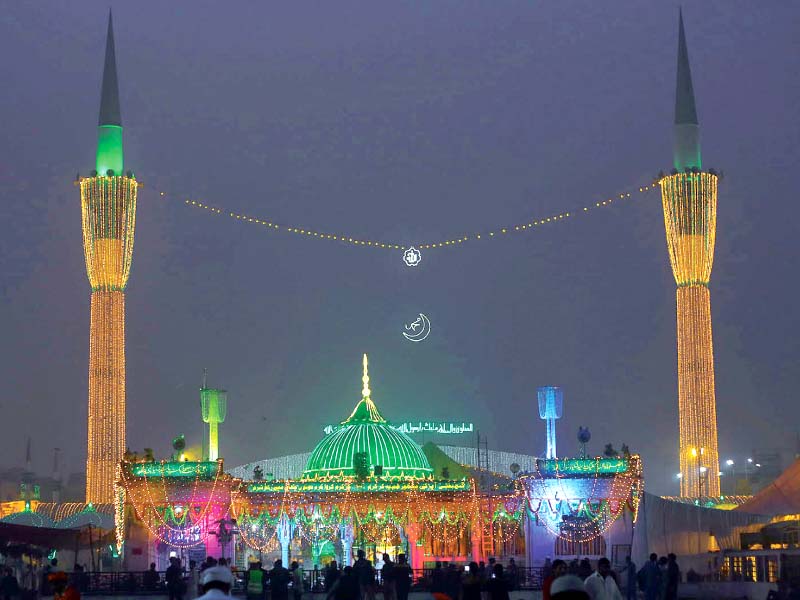 ---
LAHORE:

The three-day celebrations of the 974th Urs of Hazrat Usman Ali Hajveri – popularly known as Hazrat Data Ganj Bakhsh – started on Wednesday.

Provincial Minister for Auqaf Syed Zaeem Hussain Qadri inaugurated the urs celebrations by laying a traditional chaddar at the tomb of Data Sahib. The Auqaf Department had allocated Rs10 million for organising the urs celebrations.

A large number of devotees reached the provincial capital from different parts of the country to take part in the annual celebrations. The administration has adorned the shrine with lights and small flags. Some special langar (food stalls)have also been set up at designated places of the shrine.

Security arrangements

Lahore police have made strict security arrangements for the annual event. DIG Operations Dr Haider Ashraf said that over 2,500 police officials under the supervision of 28 SHO and three SPs were deployed to maintain three-layered security. The roads leading towards the shrine were closed down with barbed wire, tents, and barricades. All devotees were being frisked, checked with metal detectors and allowed entry after passing walk-through gates.

The venue is also being monitored through CCTV cameras installed by the Punjab Safe City Authority, Lahore police, and cameras installed by management of the shrine, he added.

About 30 vehicles of the elite force, snipers, and sharpshooters were deployed on nearby rooftops to keep an eye on any suspicious activity. Men in civies and policewomen were deployed at the shrine.

The DIG said that the venue was cleared by the Bomb Disposal Squad. Vehicles of Dolphin Squad and Police Response Unit remained on patrol in areas nearby to deal with any untoward incident. Search operations in nearby areas and hotels were also conducted.




Ashraf said that the number of police officials would be increased 5,000 under the supervision of nine SPs and 80 SHOs during the Chehlum of Hazrat Imam-e-Hussain (AS) which would take place on the last day of the urs. "We are using all available resources to protect life and property of the citizens. He requested the public to cooperate with police in the performance of their duties and call at 15 to report any suspicious activity."

Traffic Plan

According to the City Traffic Police plan for urs and tazia alam procession, 290 extra wardens under the supervision of one SP, four DSPs will be deployed for traffic on the occasion.

The traffic was blocked from Katchery Chowk towards the Data Sahib Darbar, Bhatti Gate, Taxali Gate and streets around the shrine. Chief Traffic Police Officer Rai Ijaz Ahmad said that route was opened for traffic after the procession passed.

On the last day of the urs, traffic from Akhri Bus Stop will be diverted to Firdous Cinema, Sanda Road, and MAO College. No traffic will be allowed on the Pando Street. Traffic will not be allowed to enter towards from Syedan Sanda Road and Chowk Sanda Khurd to Haider Road towards Neeli Bar.

Traffic from Haider Road would be diverted towards Islampura, while traffic from Chowk Haider Road towards Sanda Road will not be allowed. Traffic from Civil Secretariat to Islampura would not be allowed. Traffic from Tollinton Market to Old Anarkali Chowk and traffic from Baba Mauj Darya to AG Office and Khaima-e-Sadaat will also not be allowed.

Published in The Express Tribune, November 9th, 2017.
COMMENTS
Comments are moderated and generally will be posted if they are on-topic and not abusive.
For more information, please see our Comments FAQ