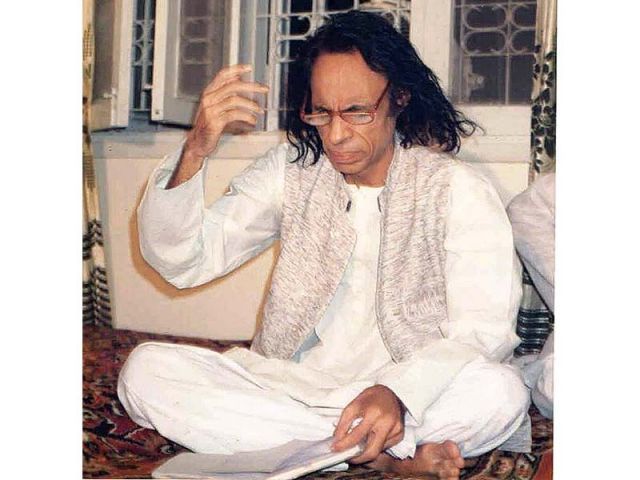 ---
KARACHI: What lies in the poetry of a dervish-looking man who talked of lost love and the meaninglessness of life that the youth of his homeland are still enamored with his almost nihilist ideas?

Jaun Elia, whose death anniversary was observed on Wednesday, is still relevant to the society. He continues to inspire the young lot of his country where a talk on literature is incomplete without mentioning his undying name and recitation of ever-lively poetry.

He spoke of pessimism yet spread hope. He wrote on religion and religious figures yet was an agnostic. He lived a miserable, not-so-inspiring life yet is still remembered for his work. He, for many, was almost dead when he was alive yet after his demise he appears to be more alive today in comparison with his contemporaries.

Jaun and his poetry explained the malaise we have faced in this century. His poetry is but a reflection of all our grievances and the inability to understand them. It makes us understand that we cannot understand the meaning of life when he says in one of his verses: "Hai ghanimat ke israr e hasti se hum… bekhabar aye hain, bekhabar jayenge. [This is still a blessing of the secrecy of life … we came ignorant, we will leave ignorant]."

Jaani bhaai, as he was called by his close acquaintances and admirers, gave lessons in his poetry that there is no purpose of life. However, he kept maintaining a principled stance on various issues that concerned his humanist values.

In Memoriam: Jaun Elia, the defeatist who won us over

At one point, shedding light on his agnosticism, he went on to claim that there might be no creator, yet he will never abandon the path of righteousness.

During a Mushaira organised in 1990s, Jaun can be seen beating his head while building a momentum to recite one of his great poetic works. He keeps crying while smashing his hand on the head and saying; "I kept on reading books for this is what [Hazrat] Ali [RA] taught us."
After that, he delivered what was the epitome of his ideology and his anthology:

In kitabon ne barra zulm kiya hai mujh par
In meein ik ramz hai jis ramz ka maara hua zehn
Muzhda-e-ishrat-e-anjam nahīn pa sakta
Zindagī mein kabhī aram nahīn pa sakta

[These books have tormented me a lot, these book contain a secret, that secret will never let me have a good tidings, this secret will never let me live peacefully]

This is the essence of Jaun's work that has still kept him relevant to the larger proportion of masses especially the youngsters – beset by the traumatising brutality of crony capitalism – who find solace in his poetry which tells them life is purposeless yet worth-loving.

Not many know today that Jaun was also a great prose writer and would contribute his seminal writings to Urdu magazines, often with a pen name to address issues which could bring trouble to him.

In one of such writings, Jaun wrote – and was perhaps drawing lesson from his life – that in order to live a happy life and enjoy happiness, we do not only need determination but also indifference and apathy. That might be the reason he lived a life of saint, not owning luxuries of life and being able to raise a family properly.

"Every generation tries to discover its world in their time. This generation is very different and still in the process of finding its essence. There is no denying that in Jaun's poetry, the hearts of today's generation beat," says Hilal Naqvi, a renowned poet famous for his work in marsiya.

Naqvi says that one of the beautiful aspects of Jaun's work is that he never employs embellishment or complication to express his feelings. "There is always depth in his poetry sans intricacies," he added.

Jaun, it seems, will stay with us and the youth will keep finding meaning of life and answers explaining absurdum in his poetry unless the era, its ground realities change.