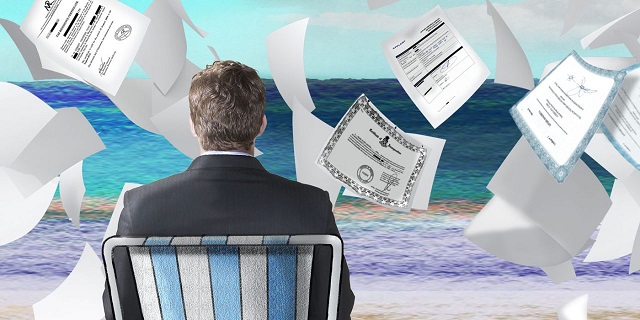 ---
At least two Pakistanis have been named in the Paradise papers – former prime minister Shaukat Aziz and former National Insurance Corporation Limited (NICL) chairperson Ayaz Khan Niazi.

Aziz is linked with Antarctic Trust, which was set up by the former premier and includes his wife, children, and granddaughter as beneficiaries.

Aziz had set up the trust in the US state of Delaware before becoming finance minister in 1999. He was working for financial giant Citibank at the time.

Delaware is considered a domestic tax haven by US financial experts.


"The kind of patterns we saw with the #PanamaPapers are now being repeated in the #ParadisePapers" https://t.co/uGf5ohpOUA #notlongnow pic.twitter.com/UIkT0jK53G

— ICIJ (@ICIJorg) November 5, 2017


JI seeks early hearing over all exposed in Panama Papers

The trust was not declared at any point during his time as finance minister or prime minister.

Also, in a 2012 internal memo, the law firm's compliance officer noted that Aziz had been accused by the opposition of false declaration of assets, corruption and misappropriation of funds. Three years later, in a database of high-risk clients, Appleby noted that a Pakistani court had issued three arrest warrants against Aziz in relation to the killing of Akbar Bugti. In September 2015, Antarctic Trust was closed and the related file removed from one of Appleby's internal databases.

According to ICIJ, Aziz's lawyers have said that he was not legally required to declare the trust to Pakistani authorities. They added that the same applies to his wife and children. The lawyers added that Aziz paid all applicable US taxes.


#ParadisePapers reveals the financial hideaways of iconic brands and power brokers across the political spectrum.https://t.co/ZEG9JAsMSt pic.twitter.com/vN9BwUOSBY

— ICIJ (@ICIJorg) November 5, 2017


The purpose of the account was "to ensure that if he were to die, his assets would pass efficiently to his family."

Ayaz Khan Niazi has connections with a trust and three offshore companies in the British Virgin Islands (BVI) – Andalusian Discretionary Trust, Andalusian Establishment Limited, Andalusian Enterprises Limited and Andalusian Holdings Limited, respectively.

ICIJ set to release 'Panama Papers 2' tonight




Explore our #ParadisePapers interactive to see the offshore connections of US president Donald Trump. https://t.co/yBG9gvFqwL? pic.twitter.com/hj6a2XFbFq

— ICIJ (@ICIJorg) November 5, 2017


The three companies were set up in 2010 when Niazi was NICL chairperson.

Niazi's brothers Hussain Khan Niazi and Muhammad Ali Khan Niazi were shown as beneficial owners, whereas Ayaz, his father Abdul Razaq Khan, and mother Fauzia Razzaq acted as directors.

Pakistani journalist Umar Cheema, who helped research the papers, said on a private TV channel that numerous oil and gas sector companies and businesspersons also appear in the leaked documents, though he did not name them.


Biggest economic con of our time has been to tell working people that if the RICH are taxed, somehow the POOR will suffer. #ParadisePapers

— British Gov Watch (@BritishGovWatch) November 5, 2017
COMMENTS (7)
Comments are moderated and generally will be posted if they are on-topic and not abusive.
For more information, please see our Comments FAQ