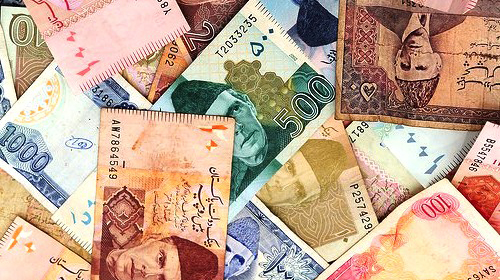 ---
KARACHI: The rupee's substantial gains against the dollar from 85.2 at the end of January to 84.4 may have led to a stronger foreign reserve position and a surprisingly favourable drop in current account deficit, according to a report by Sayem Ali, economist at Standard Chartered Bank (Pakistan) Ltd.

He said the release of the fifth tranche of the International Monetary Fund (IMF) loan, worth $1.3 billion, and a sharp decline in commodity prices, notably oil, are major advantages for the rupee in the short term. According to Ali, recovery is broad-based and is driven by higher government spending and pick-up in export growth.

Largescale manufacturing output has increased 4.4 per cent Year on Year during FY10, from negative 8.5 per cent in FY09, supported by higher government spending and higher rural incomes. Stronger recovery in the main export markets including the US, Japan and the European Union combined with sharp depreciation of 38 per cent in the rupee over the last two years has made exports more competitive and has led to an increase in external demand.

Ali pointed out that recovery is a slow process and sustaining growth momentum will be a challenge. While increased corporate earnings have attracted higher foreign exchange inflows into the equity markets, the size of the flows is small in comparison to the current account deficit and hence is unlikely to impact the rupee. The government's higher GDP growth of 4 per cent is primarily based on revising low GDP numbers for the previous two years, hence showing higher growth from a lower GDP base, he added.

Ali said that with weak fundamentals, private and government investment is still declining alongwith foreign investment flows and the growth picture was "neutral" for the rupee. Despite the reduction in energy subsidies, the economist noted that the fiscal deficit remains high. The increase in government spending is being financed by borrowing from the central bank.

Money growth has increased to 18.8 per cent YoY as of April 2010 from 6.2 per cent in June 2009, and is the main reason for inflation. Headline inflation has resurfaced, with Consumer Price Index (CPI) inflation averaging 13.2 per cent in first quarter of 2010 versus 10.3 per cent in fourth quarter of 2009. The economist pointed out that the current inflation cycle is fuelled by a weak fiscal position, with the government now projecting a significantly higher deficit of 5.2per cent of GDP in FY10 (ends in June 2010) compared to the budget target of 4.9 per cent.