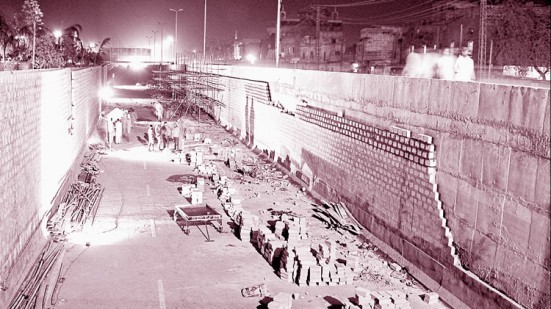 ---
LAHORE: Nine labourers working at Mughalpura overhead bridge were injured on Saturday evening when a newly-constructed wall and shuttering supporting it collapsed.

They were shifted to the Services Hospital where, according to Edhi officials three workers who had sustained serious injuries were hospitalised while the rest were discharged after receiving first aid. The workers accused the contractor of installing substandard shuttering which caused the wall to collapse.

Project engineer Tariq Iqbal said that the accident was the labourers' mistake and had nothing to do with the quality of the shuttering. Eight of the injured workers have been identified as Amjad Shah, Javed Shah, Gulzar Shah, Muhammad Tariq, Maqbool, Pappu, Liaqat and Allah Ditta. The Mughalpura overhead bridge was inaugurated by Punjab chief minister Shahbaz Sharif on Jan 1 this year.

Some of the work on the bridge was incomplete. SHO Mughalpura said that the incident appeared to be an accident and he could not say whether it was the contractor's fault without further investigation.
COMMENTS
Comments are moderated and generally will be posted if they are on-topic and not abusive.
For more information, please see our Comments FAQ