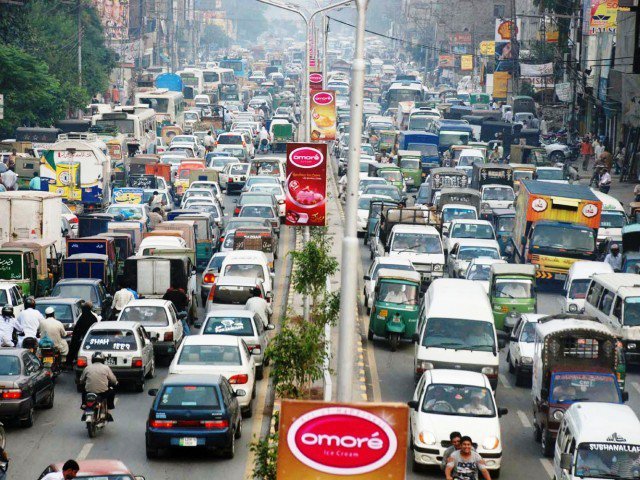 ---
LAHORE: Diversions, barricades and pickets on major roads of the provincial capital as part of security arrangements for Pakistan-Sri Lanka cricket match at Gaddafi Stadium became a source of great nuisance for the residents of the area and commuters.

Lahore Police had closed down Ferozpur Road near Muslim Town Mor, blocked traffic towards Barkat Market from Canal Road and Siddique Trade Centre. Police had also sealed streets and roads of the nearby residential areas near Gaddafi Stadium and blocked them with barbed wire, barricades and tents. Is such a state of alert, people remained confined to their residences as they could barely come on main roads using their vehicles.

Final T20: Cricket in the air amid traffic woes

Ali Raza, a resident of Garden Town, said it was a hostage-like situation in his area. "No one from my locality could either enter or leave the premises even in case of emergency," he remarked.

Abdul Razzaq, who lives in the residential area behind FCC College, said he had to stay at a relative's place in Badami Bagh due to some reason. "When I left for home in the afternoon, I had to face a lot of trouble due to diversions and traffic mess on the way.

Somehow, I managed to reach Kalma Chowk and my house was just a few metres away when policemen did now allow me to move further. I had to return to my relatives' place," he said.

Tassawar Hussain, a resident of Faisal Town, said it was good that an international cricket team had come to play in Pakistan but cricket must not be played at the cost of our freedom of movement and mobility.

"When cricket cannot fill the empty bellies of the people, then why should they be restricted from earning their livelihood due to a cricket match," he lamented.

Exchange of heated arguments between policemen and citizens were observed at several checking and diversion points. Countless incidents of police misbehaving with citizens were also reported from different parts of the city.

As far as traffic and security arrangements for the cricket match were concerned, at least 11,000 officials of police were deployed on the occasion for the security under the supervision of 27 SPs, 60 DSPs, 134 SHOs and in-charge investigations, 700 upper sub-ordinates were deployed under security plan. CCPO Amin Wains himself, DIG Operations, four SSPs and six DPOs monitored and reviewed the arrangements.

Wains said 100 vehicles of Elite Force, 50 Police Response Unit and 120 teams of Dolphin Squad were deployed on patrolling duty around Gaddafi Stadium.

'Thank you Sri Lanka, for trusting us'

Punjab Safe Cities Authority installed over 320 CCTV cameras on the route and around the stadium for live monitoring.

They also deployed three teams of 65 communication officers and two incidents command vehicles for live monitoring of the stadium and routes leading to the stadium.

DIG Operations Dr Haider Ashraf said complete surveillance of the routes was conducted and police officials were deployed at 350 points for rooftop security.

Roads and streets leading towards Gaddafi Stadium were sealed. Entry inside stadium was allowed after physical frisking and scanning through metal detectors.

However, despite tall claims of the traffic police, all main arteries of the city witnessed massive traffic jams. Jail Road, Ferozpur Road, Canal Road, Gulberg and Model Town were locked in worst gridlocks where traffic could move only bumper to bumper.

Published in The Express Tribune, October 30th, 2017.     
COMMENTS (1)
Comments are moderated and generally will be posted if they are on-topic and not abusive.
For more information, please see our Comments FAQ