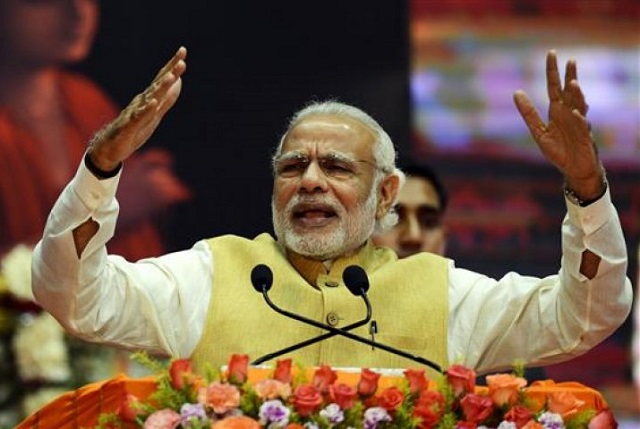 ---
Lashing out at senior Congress leader P Chidambaram over his advocacy for greater autonomy for Indian-held Kashmir, Indian Prime Minister Narendra Modi accused on Sunday the former for "shamelessly using the language of separatists and Pakistan".

"All of a sudden, those who were in power till yesterday have taken a U-turn. Shamelessly, they are making a statement and are lending their voice for Kashmir's independence," Modi was quoted by Hindustan Times as saying at a BJP rally in Bengaluru.

Chidambaram had said in an election rally in Gujarat's Rajkot that when people of Kashmir ask for 'azadi' (freedom), most of them mean they want greater autonomy.

"The demand in Kashmir is to respect the letter and spirit of Article 370 that means they want greater autonomy. My interactions in Jammu and Kashmir led me to the conclusion that when they ask for azadi, mostly, I am not saying all... the overwhelming majority, they want autonomy," he had said.

'Modi opened up space for terrorists in Kashmir': Rahul Gandhi

Without naming anyone, Modi in today's rally said, "I am surprised that those who were in power at the Centre, those who were responsible for the country's internal security and national security (are saying this)."

He said the Congress was "shamelessly using such language as is used by the separatists in Kashmir. (They are) using the language that is spoken by Pakistan." The country had no hope or expectations from the Congress, he added.

The Congress, however, sought to distance itself from the remarks of Chidambaram on Kashmir, saying the "opinion of an individual is not necessarily the opinion of the party".

Meanwhile, Farooq Abdullah's National Conference has also pledged to continue its struggle for greater autonomy of Kashmir as enshrined in the Constitution of India.

Calling for a political initiative, the party said singular focus on military and operational mechanism to deal with the Kashmir issue was a "dangerous" approach and continued to alienate the people.

Police and the Indian army routinely complain that civilians assist militants during clashes with armed forces, a frequent occurrence in the divided and volatile state.

The restive Himalayan region suffered a rise in violence last year after the killing in July of a popular young rebel leader in a gun battle with soldiers.
COMMENTS
Comments are moderated and generally will be posted if they are on-topic and not abusive.
For more information, please see our Comments FAQ