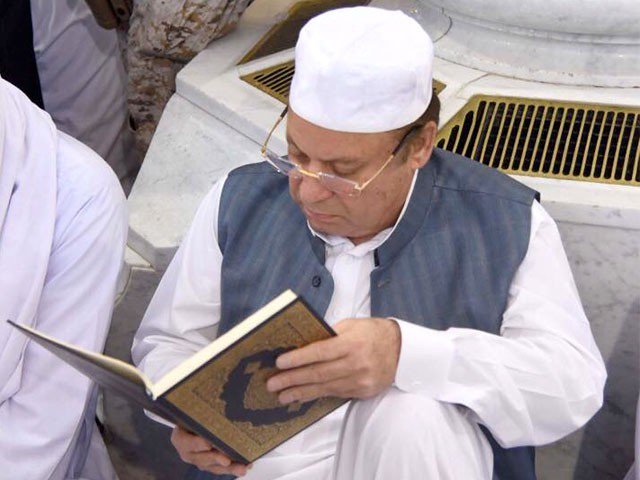 ---
A video of former prime minister Nawaz Sharif reading the Holy Quran at Masjid-e-Nabawi in Madina, Saudi Arabia has gone viral on the social media.

The Pakistan Muslim League-Nawaz (PML-N) chief was scheduled to return to Pakistan from London on October 24, but flew to Jeddah on Monday instead to perform Umrah with his mother.

In the video, Sharif can be seen accompanied by his son Hussain Nawaz and other relatives as well as several Saudi security personnel.

Dressed in white, the deposed premier seems engrossed in reading the Holy Quran.

Nawaz changes travel plans, heads to Saudi Arabia

PML-N sources told Express News that Sharif has been praying for his wife Kulsoom Nawaz, who is undergoing cancer treatment in London.


Sharif's unscheduled departure to Saudi Arabia fuelled speculations that he was trying to seek the monarchy's help in dealing with the political crisis at home. Speculations were also rife about the possibility of covert meetings with members of the Saudi royal family.

Three matters are important once Sharif lands in Pakistan – the pending trial against the Sharif family in the accountability court, internal party differences amid rumours suggesting the possible emergence of 'Shehbaz League' and action on the report of the change in the clause of Khatm-e-Nabuwwat declaration in the previous draft of Election Bill 2017.