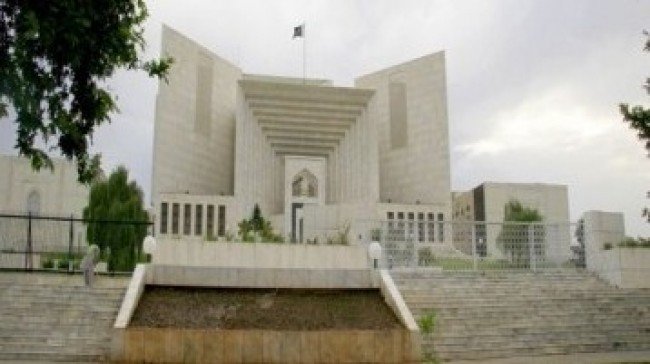 ---
ISLAMABAD: Arrangements have been finalised in the Supreme Court for Monday when a 17-member full bench will take up constitutional challenges to the 18th amendment, mainly Clause 175-A which deals with the appointment of judges to superior and subordinate courts through a judicial commission.

Chief Justice Iftikhar Muahmmad Chaudhry will head the bench which comprises Justice Javed Iqbal, Justice Mian Shakirullh Jan, Justice Tassaduq Hussain Jilani, Justice Nasir-ul-Mulk, Justice Raja Fayyaz Ahmed, Justice Muhammad Sair Ali, Justice Mahmood Akhtar Shahid Siddiqui, Justice Jawwad S.Khawaja, Justice Anwar Zaheer Jamali, Justice Khilji Arif Hussain, Justice Tariq Pervez, Justice Mian Saqib Nisar, Justice Asif Saeed Khan Khosa, Justice Ghulam Rabbani and Justice Khalil-ur- Rehman Ramday.

In view of the prevailing fluid security situation, strict security measures have been put in place in and around the Supreme Court building. Special security cameras have been installed in courtrooms as well as entrances and reception areas. Court reporters have also been issued special passes for covering proceedings of important cases at the apex court.

Special passes have been issued to advocates and parties, whose cases will be heard or who have been issued notices to appear before the court. Briefcases, mobile phones and other electronic gadgets will be strictly prohibited within courtrooms. As many as 10 petitions have been filed under Article 184 of the constitution challenging different provisions of the 18th amendment. Of them, one petition was filed by the Supreme Court Bar Association through its lawyer Hamid Khan.

The rest were filed by Nadeem Ahmed advocate, Rawalpindi District Bar Association, Wattan Party, PML-Z chief Ejazul Haq, Pakistan Lawyers Forum, Lahore Bar Association, High Court Bar Rawalpindi Bench. Two of the petitions were filed by Shahid Orakzai, a citizen and Sardar Khan Niazi, owner of a local newspaper. Earlier a larger bench of the Supreme Court, headed by Justice Nasir-ul-Mulk, had heard these petitions but later on the matter was referred to the chief justice with a request to constitute a full bench to hear these petitions. The chief justice then clubbed all these petitions and formed a full bench to hear these challenges.