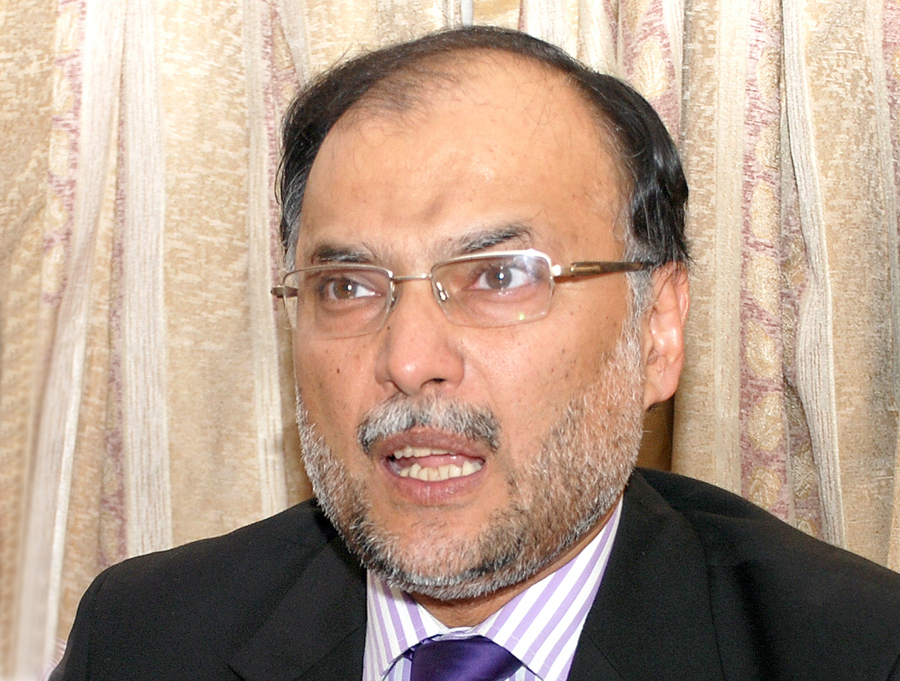 ---
ISLAMABAD: Interior Minister Ahsan Iqbal reiterated the words of his predecessor Chaudhry Nisar Ali Khan on Tuesday that there would be no absolute freedom of expression on social media in the country.

Replying to a question during a press conference about recent actions by the Federal Investigation Agency (FIA) against some people over their online posts, Iqbal said social media and fake news were being used as crucial weapons in 'fifth generation warfare'.

He said that under a new monitoring framework being devised by the FIA, social media campaigns to discredit or disgrace the national institutions would not be allowed.

Nawaz speaks out against 'social media crackdown, suppression of dissent'

"At a time when we are entering an election year, it is important, while protecting democratic freedoms, to have a mechanism to check that social media is not used for creating political chaos or for terrorist activities," he said.

"Parliament is as sacred as the armed forces and the judiciary. Under the new framework, we will take notice if there is any campaign on social media to disgrace parliament, the judiciary and the armed forces," Iqbal said, adding that democratic rights and freedoms would be protected under the new policy.

Commenting on a rally planned by some religious groups over a recent controversy about the wording of a declaration about Khatm-e-Nabuwwat, or the Finality of Prophethood, for election candidates, the minister said the issue should be laid to rest as parliament had restored the text in its original form.

He said the amendment to the election laws had not been drafted by the government alone but all parliamentary parties were involved in the process. "The issue has been settled once and for all [in the Constitution]. I appeal to religious parties to not make an issue of it or make it a basis for political sloganeering," he said, adding that while peaceful protest was a democratic right, no group would be allowed to disrupt public peace.

"A lobby of dejected politicians wants to breach the system by hook or by crook before the Senate elections in March next year. But the assembly will complete its tenure in June," he added.

SHC issues notices on plea against crackdown on social media activists

The minister also announced a new policy under which anybody paying Rs0.5 million tax and not having a criminal record might own a bulletproof car after obtaining an NOC.

Afghan war fallout

Addressing the inaugural session of a two-day regional conference on Trafficking in Persons and the Smuggling of Migrants earlier, the minister declared that almost all the terrorist sanctuaries on the Pakistani soil had been destroyed.

The claim of eliminating "99% terrorist sanctuaries" came on the day US Secretary of State Rex Tillerson visited the capital to seek specific action from Pakistan against the Afghan Taliban and certain other militant groups.

Iqbal said the people of Pakistan continued to face repercussions of the Afghan war against the Soviet Union. Al-Qaeda founder Osama bin Laden was also introduced by "our allies", he said, adding that despite all the security challenges, peace and prosperity were rapidly being restored in Pakistan.

Court ruling puts social media in a flutter

The conference has been organised by the United Nations Office on Drugs and Crime (UNODC) in which 21 countries, including Afghanistan, Iran, Turkey, Greece, Spain, Italy, Austria, Oman, Qatar, Bahrain, Saudi Arabia, Kuwait, Thailand, Malaysia, Indonesia, Hungary, Russian Federation, Czech Republic, the United Arab Emirates and Iraq, are participating.

"Human trafficking and migrant smuggling can be curbed by overcoming the push and pull factors. Under the present government, Pakistan's economy has seriously improved and the environment has been ideal for every citizen to lead a free and peaceful life," the minister said.

According to a statement issued by the UNODC, Federal Investigation Agency Director General Bashir Ahmed said Pakistan had taken a number of measures under the FIA's 'strategic framework to combat human trafficking and migrant smuggling (2016-20)'.
COMMENTS
Comments are moderated and generally will be posted if they are on-topic and not abusive.
For more information, please see our Comments FAQ