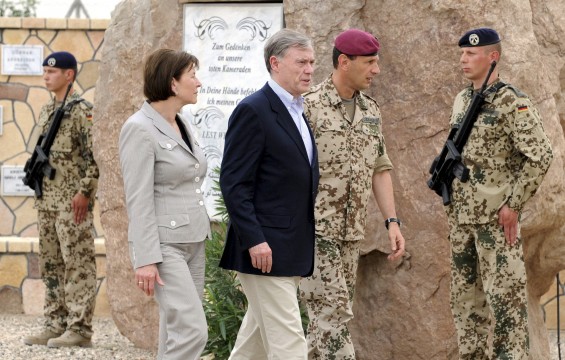 ---
BERLIN: German President Horst Koehler praised Germany's troops in Afghanistan in a surprise visit Friday and said he would work to see their efforts are recognised, the defence ministry said.

Koehler made a stopover in the northern city of Mazar-i- Sharif in his first trip to the country where Germany has stationed 4,500 troops in a Nato-led International Security Assistance Force tackling a Taliban-led insurgency.

He told the soldiers their mission in Afghanistan was "difficult and dangerous" but legitimate.

"I am going to do all that I can for the work that you do in Afghanistan, for our homeland, for the people here and for more security in the world, is recognised in Germany," he said.

The military mission in Afghanistan is deeply unpopular with the German public.

Parliament however approved in February the extension of the deployment and dispatch of an extra 850 soldiers.

Koehler, re-elected to the largely symbolic role in 2009, arrived in Afghanistan with his wife on the way home from China where they attended the World Expo in Shanghai.

The German contingent in Afghanistan, based mostly in the north of the unstable country, is the third largest after those of the United States and Britain. Berlin wants to begin bringing its soldiers home in 2011, an aim shared by Washington, but has not fixed a date for withdrawal.

Published in the Express Tribune, May 23rd, 2010.