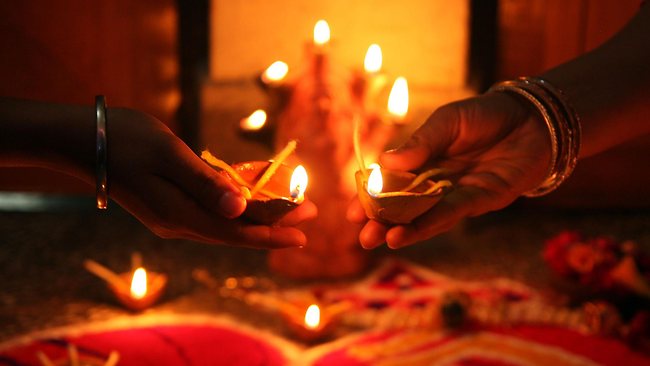 ---
ISLAMABAD: While a controversy is raging in India in the wake of a fatwa against Muslim women for celebrating Diwali, Pakistan's Ministry of Religious Affairs and Interfaith Harmony is organising an event in Islamabad on Tuesday (today) to celebrate the Hindu festival of lights.

High officials of the religious affairs ministry as well as parliamentarians and representatives from the Hindu community are expected to attend the event which is going to be held at Pakistan National Council of the Arts (PNCA).

Speaking to The Express Tribune, an official of the religious affairs ministry who wished not be named said the aim of organising Diwali celebrations was to send out a message to the masses that "all minorities, including the Hindus, enjoy full religious freedom in Pakistan".

For the past few years, the official said, the ministry had started celebrating such religious festivals at the national level in order to promote interfaith harmony, love and peace among the people.

According to the official, the ministry organises six festivals of different religions every year.

Diwali celebrations under way in Multan

Recently, Darul Uloom Deoband in Uttar Pradesh's Saharanpur, India had issued a fatwa against Muslim women who offered prayers to Lord Ram on Diwali in Varanasi. It said that they could no longer be considered Muslim if they worshiped other gods.

According to some religious scholars, celebrating the festivals of other religions is akin to committing 'shirk' or considered 'Kufur'.

According to Scholar Mufti Saeed Ahmed, "A Muslim should not and cannot celebrate festivals of the other religions. It is equal to committing shirk because a Muslim cannot worship other gods. No matter its Christmas, Diwali, Holi or any other religious festival, Muslims are not allowed to celebrate them."

"However every Hindu, Christian, Sikh or any person belonging to any faith, belief or sect has a full right to celebrate his religious festival in Pakistan with full zeal and freedom, and no Muslim has a right to stop them or interfere in this," said Mufti Ahmed.

Earlier this year, Nawaz Sharif had to face a lot of criticism from religious scholars for celebrating Holi with the Hindu community in Karachi, as he was dubbed as the country's first prime minister to do so.

Cleric Allama Ashraf Jalali, the Sunni Ittehad Council's secretary general, while criticising Sharif's speech at the event, said that he had not only committed blasphemy but also demeaned the 'ideological foundations' of Pakistan by participating in the event.

Jalali, while issuing a fatwa against Sharif, demanded "an open apology from the premier for the violation of his oath."
COMMENTS
Comments are moderated and generally will be posted if they are on-topic and not abusive.
For more information, please see our Comments FAQ