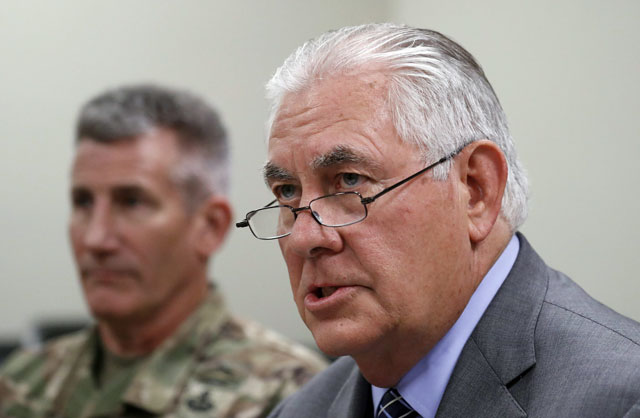 ---
KABUL: US Secretary of State Tillerson said on Monday he would travel to Islamabad on Tuesday (today) to reinforce the President Donald Trump administration's demand that Islamabad move against the Taliban and other extremists based inside its borders or face the consequences.

Speaking at a press conference after meetings with Afghan President Ashraf Ghani and Chief Executive Abdullah Abdullah during an unannounced visit to Kabul, Tillerson said America's future policy towards Pakistan would base on whether Islamabad took action that "we feel is necessary".

"We have made some very specific requests of Pakistan in order for them to take action to undermine the support the Taliban receive and other terrorist organisations receive," he told reporters at the Bagram Airfield, America's largest base in Afghanistan.

Afghan President Ghani to visit New Delhi tomorrow, same day Tillerson will

US policy toward Islamabad "will be based upon whether they take action that we feel is necessary to move the process forward for both creating opportunity for reconciliation and peace in Afghanistan but also ensuring a stable future for Pakistan," he continued.

Islamabad needed to "take a clear-eyed view of the situation that they are confronted with in terms of the number of terrorist organisations that find safe haven inside" the country, he said. "We want to work closely [with] Pakistan to create a more stable and secure Pakistan as well."

Tillerson spent almost three hours at Bagram, most of the time in talks with Ghani, Abdullah and other US and Afghan officials. A small group of US media accompanying him on his first official visit to Afghanistan were prohibited for security reasons from filing reports until they returned to Qatar.

The top US diplomat announced that he would be flying to Islamabad on Tuesday, adding that from there, he would then travel to India to discuss a request that it expand its economic and development assistance to Afghanistan.

Tillerson is visiting Pakistan at the invitation of Foreign Minister Khawaja Muhammad Asif. He will also meet Prime Minister Shahid Khaqan Abbasi and Army Chief General Qamar Javed Bajwa.

A statement posted on Twitter by the US embassy in Kabul said Tillerson reiterated the US commitment to working with the Kabul government and regional partners "to achieve peace in Afghanistan and deny safe havens to terrorists who threaten that goal".

Tillerson to enlist Pakistan help for peaceful solution in Afghanistan

He said President Trump "has declared that we are here to stay until we can secure a process of reconciliation and peace", but adding: "It's not an unlimited commitment." He said: "Clearly we have to continue to fight against the Taliban, against others, in order for them to understand they will never win a military victory."

It was Tillerson's first trip to Afghanistan as secretary of state and comes several weeks after US Defence Secretary Jim Mattis also paid an unannounced visit. The closed-door talks covered Ghani's reform programme, his anti-corruption strategy and preparations for parliamentary elections due next year.

Tillerson's unannounced visit follows one of the bloodiest weeks in Afghanistan in recent memory, with more than 200 people killed in multiple attacks on security installations and mosques across the country. Militants fired several rockets into Kabul on Monday morning but there were no casualties.

Meanwhile, President Ghani is expected to arrive in New Delhi on Tuesday (today), the same day Tillerson is scheduled to reach in the Indian capital from Pakistan, Afghanistan's Khaama Press reported.

During his daylong state visit Ghani is scheduled to meet Indian Prime Minister Narendra Modi, President Ram Nath Kovind, Foreign Minister Sushma Swaraj and other officials.

Ghani's visit is announced on the say he banned Pakistani trucks from entering Afghanistan, according to Tolo news. Afghan Transport Ministry said Pakistani trucks will only be allowed up to the border crossing where they will have to offload goods and transfer them to Afghan trucks for onward journey.