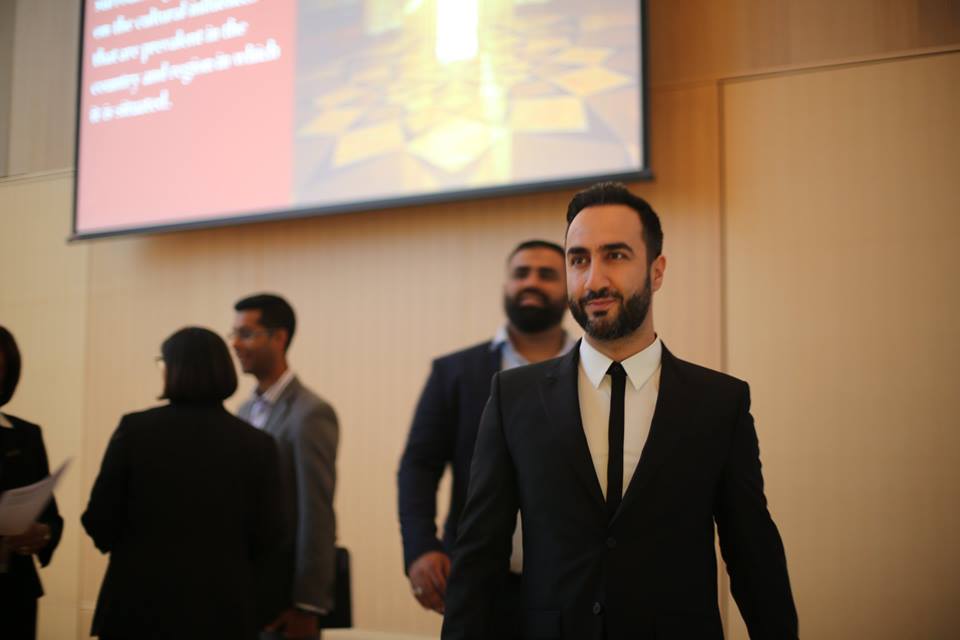 ---
KARACHI: During the past weekend Masjid-e-Yasrab's imambargah in Karachi was infused with enthusiasm – a large crowd gathered to welcome and listen to an English-lecture series by renowned scholar of religious studies Dr Sayed Ammar Nakshawani.

Belonging to a prominent lineage through Musa alKhadim, the seventh Shia Imam, Nakshawani serves as the special representative to the United Nations for the Universal Muslim Association of America [UMAA] where he engages in interfaith dialogue with leaders of a variety of faiths and works on programmes for abused women, poverty and others. "It's good to be involved on a political level… to be an ambassador of Islam," he told The Express Tribune.

The 36-year-old has not shied away from taking stands on terrorism, promoting women's rights, addressing social issues and encouraging religious harmony and tolerance. He has strongly criticised the Islamic State of Iraq and Syria, urging the world to unite against the threat posed by the militant organisation.

Known for his inter and intra faith unity efforts, the professor is associated with non-profit organisations that look after victims of war, including displaced widows and orphans and provide educational opportunities.

Book fair bars display of Islamic scholar's works

Interspersed with modern analogies and examples, his lectures stand out because of his ability to make the content relevant for his audience. The ease with which he connects with listeners compels one to relate with the words he utters.

"Originally I had no intentions of being an Islamic scholar… what inspired me was that I felt I was making too many excuses as to why I was not learning about Islam," reminisced Nakshawani.

At 19, he realised that "there was enough material out there if you want to learn". With a BA in psychology and law from University College London, he pursued his postgraduate studies in Islamic Studies, obtaining a Master's from the Shahid Beheshti University and a PhD from the University of Exeter. He also studied at the Islamic Seminaries of Damascus in Syria between 2009 and 2012. "I have a mixed traditional and academic learning," he said. "I studied in secular universities and an Islamic seminary."




On the eve of October 18, scores of Muslims made their way to the imambargah in Defence Housing Authority for the eloquent speaker's first public talk in Karachi - a sight one may associate with the passion that is often seen during the first 10 nights of Muharram – only this time the crowd was not limited to the Shia community but was attended by people from all walks of life.

Explaining the process behind the selection of topics, Nakshawani said in Ramazan he picks one topic and breaks it up into different parts over the course of 30 nights. But in Muharram, he prefers to address different topics rather than pick one and stretch it for 10 nights. "I'd rather pick a social topic one night, a legal or historic one on another," he said.

"Because Islam is such a beautiful religion, it should not be limited to history alone," added the visiting scholar at Columbia University's Middle East Institute.

Govt to impose Section 144 during Muharram

Nakshawani frequently scans his emails to find issues that people want him to address. "Sometimes it's the emails, other times [lectures] are based on my own vision – areas that I think need to be looked at the current moment."

The topics, he stressed, were always his own. "If you ask the organisers, they would not know what I am going to speak about tonight," he quipped. "But [by] the first minute of the lecture, you will find out what the lecture will be about."

For his four-day lecture series in Karachi, Nakshawani, carefully chose to speak on socio-religious issues that did not "cause any friction between the people who live here."

"I recognise that politically there have been some sad difficulties in the past 15 to 20 years," he said, adding that he wanted to unite Muslims under common denominators rather than focus on differences.

Currently a fellow of the Kennedy School of Government at Harvard University, Nakshawani addressed the anxiety and confusion behind a dua not being fulfilled, emphasised on a father's stature in Islam and stressed on reconciliation during his English-lecture series. His powerful lecture on day one moved the hearts of many attendees who shed tears at the mention of the events that unfolded on Muharram 10 as he spoke about the significance of the date.






Nakshawani, who was included in 'The 500 Most Influential Muslims' in 2014 in the Preachers and Spiritual Guides section, also made use of popular references including one of singer Beyonce and rapper Drake to engage the audience in his lecture. His narrative techniques appeared to be successful as he instantly captured the attention of the youth.

Despite restricted mobility during the trip due to security concerns, the scholar was keen to meet the local community. "I meet people on the ground which helps me know what's happening on grass root level," he said, expressing his desire to be part of a larger discussion. "For the time being it's mainly me meeting the youth, the adults and the classic traditional leaders of the community."

Reflecting on the short visit and the circumstances that limited his audience, Nakshawani said he noticed the youth are adamant about not letting their own kids grow up seeing harrowing situations and instead want an environment that encourages empathy and tolerance. But for all that to happen, there had to be unity among the citizens. "I think it [unity] is vital because before you move on to build a social movement, if the people of country are not united under common denominators then we're not going to be able to build anything," he said.

"So my message would be of peace and tolerance within the country."