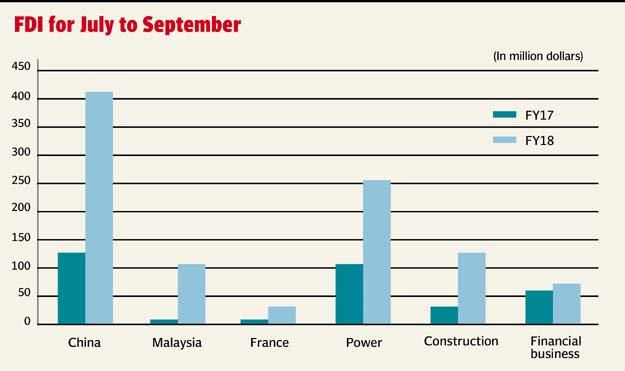 ---
KARACHI: Pakistan received foreign direct investment (FDI) worth $205 million in September 2017, up 7% compared with $192 million in the same month of previous year, according to data released by the State Bank of Pakistan (SBP) on Wednesday.

This takes the FDI in first three months of fiscal year 2017-18 to $662 million, up 57% compared with $423 million in the same period of preceding year.

Malaysia leads as FDI in Pakistan jumps 162%

Countries that made significant investments in September 2017 were China ($170 million), Kuwait ($15 million), France ($9.5 million), the Netherlands ($11 million) and the US ($9.3 million). In July-September FY18, Chinese investments in Pakistan jumped to $430 million, up 216% compared with $136 million in the same period of last year.

The second highest FDI in Pakistan came from Malaysia which stood at $111 million in the first three months, up 1,288% compared with just $8 million in the corresponding period of last year.

France stood at third position with $29 million and Hungary at fourth ($23 million). The UAE and the US brought $22 million each in the first three months of FY18.




Sector-wise investment

The construction sector received the highest FDI in September 2017 as the country received $68 million in the sector. The financial business and power sectors got $58 million and $57 million respectively in September.

So far, in the first three months, the power sector led the FDI flow, which stood at $268 million. Analysts believe this is happening due to investments going into mega power projects under the China-Pakistan Economic Corridor (CPEC). Overall, the construction sector came at the second position as it received $124 million in the first three months of FY18. Other notable sectors were financial business ($71 million), communications ($68 million) and oil and gas exploration ($49 million).

China leads as Pakistan sees FDI of $2.41b in 2016-17, up 5%

Analysts say while Chinese investment is crucial, other countries (the US and western European countries) have been increasingly shying away since the financial crisis of 2008, which should be a cause for concern for policymakers of the country.

Pakistan received $2.41 billion in FDI in the fiscal year ended June 30, 2017, up 5% from $2.3 billion in the previous year. It received $5.4 billion in fiscal year 2007-08, which was the highest amount in the country's history, according to the Board of Investment.

However, the country has been recording low levels of foreign investment since 2008. Many foreign investors, especially from western countries, have pulled out due to a persistent energy crisis, poor governance and security challenges.

Published in The Express Tribune, October 19th, 2017.

Like Business on Facebook, follow @TribuneBiz on Twitter to stay informed and join in the conversation.
COMMENTS
Comments are moderated and generally will be posted if they are on-topic and not abusive.
For more information, please see our Comments FAQ