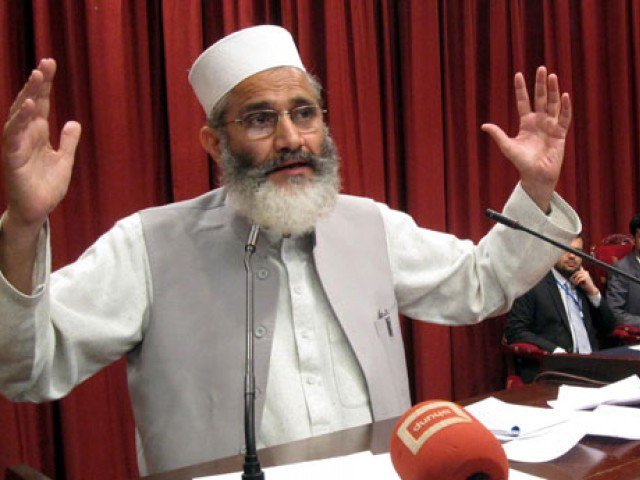 ---
PESHAWAR: The Jamaat-e-Islami (JI) will bear all educational expenses of Mumtaz Qadri's four-year-old son, party chief Sirajul Haq said on Wednesday.

According to him, this was a small gesture for Qadri, who had 'sacrificed' his life for the love of Prophet Muhammad (PBUH).

He was speaking at the Khatm-e-Nabuwwat Conference, attended by his party's leaders and workers here. The Jamaat's MNA Sahibazada Tariqullah also attended the conference.

Mumtaz Qadri, the JI chief said, had been executed by the federal government for expressing his love for Prophet Muhammad (PBUH).

Salmaan Taseer's killer Mumtaz Qadri executed

He said he was the only 'brave' politician who had attended Qadri's funeral and visited his family, offering condolences while other politicians avoided attending the funeral out of fear of the Americans and western forces.

"To pay tribute to Qadri's sacrifices, I announced that the JI will bear the entire educational expenses of Qadri's son," Haq said, adding that the belief on the finality of the prophethood of Hazrat Muhammad (PBUH) was the basic belief of all Muslims, without which no one could enter the paradise.

Criticizing decision of Qadri's execution, Haq said that the federal government has executed him owing to western pressure despite the fact Qadri was the diehard lover of Prophet Mohammad (PBUH).

He said the government has targeted belief of Khatme Nabuwwat by executing Qadri in the night while on the other hand thousands of prophet's lovers attended his funeral which reflected the fact Qadri gave his life for a good cause.

Talking about recent controversial amendments, Haq said that all those who had supported these 'shameful' amendments had hurt the sentiments of 200 million people of the country.

Government bans rallies praising Mumtaz Qadri

While speaking about various domestic problems, he said the only solution to all the problems faced by the country was enforcing the Islamic system as prescribed by Prophet Mohammad (PBUH).

"We will (wage a) fight against corruption, land mafia, international establishment, American agents (in an effort) to make Pakistan a welfare state," he said, adding, his party would never step back from the demand for expelling all cabinet members who supported the controversial constitutional amendments.

As part of the by-election campaign in NA-4, Haq urged the people to cast their votes for the JI candidate.