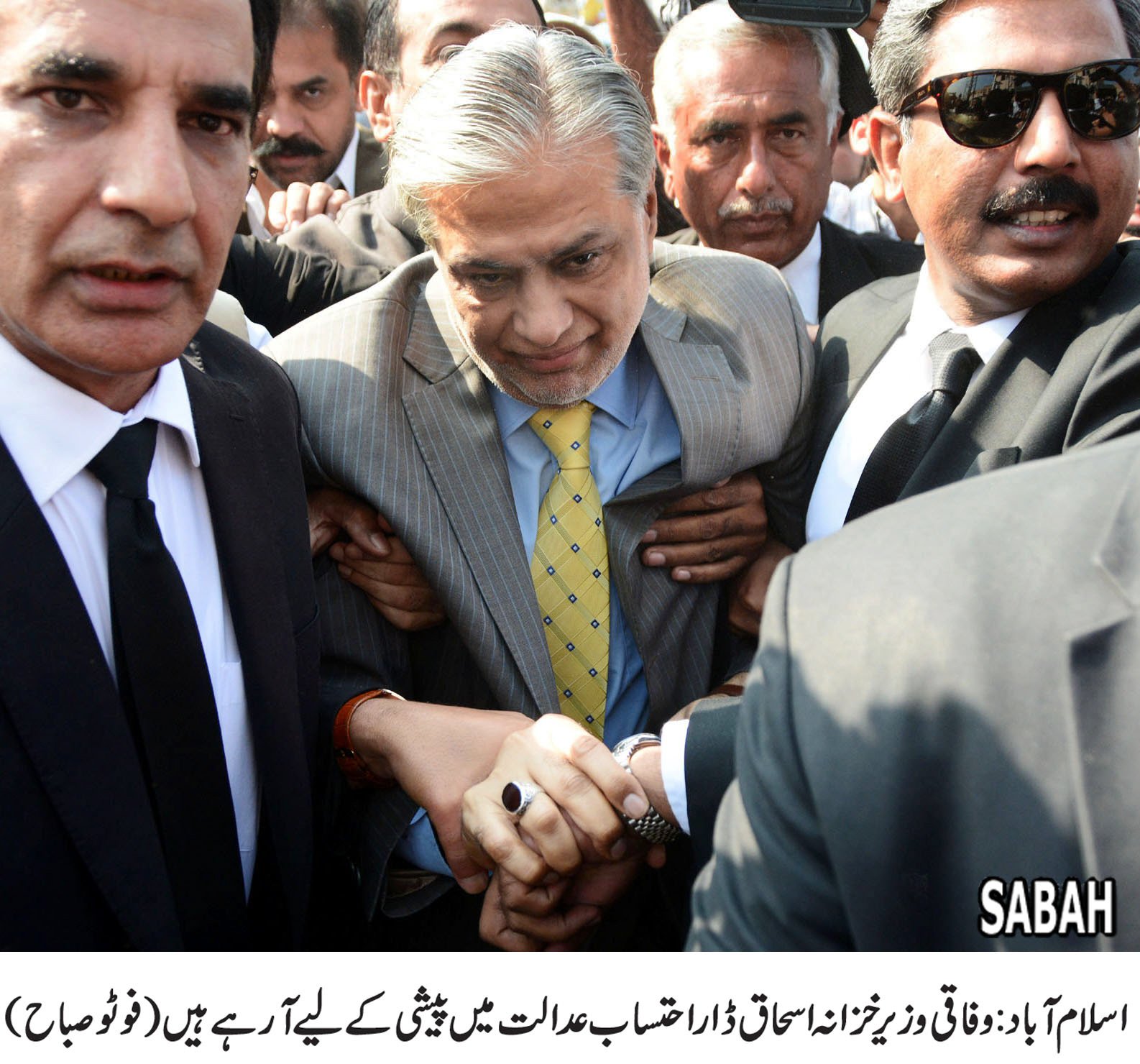 ---
ISLAMABAD: The accountability court hearing a graft case against the incumbent Finance Minister Ishaq Dar on Wednesday adjourned the case till October 23 after Dar's lead counsel could not appear before the court.

The Accountability Court Judge Muhammad Bashir accepted request of Dar's legal team when one of them asked the court to adjourn the hearing in view of absence of their lead counsel, Khawaja Haris, who, he said, went abroad in an emergency last night and he was likely to return on Sunday.

Petitions filed: Dar asks IHC to set aside indictment order

The National Accountability Bureau's (NAB) prosecution team opposed adjournment and requested the court to ask Haris's associates to cross-examine the witness. The defence counsel, however, said the witness could record his statement but only Haris would cross-examine him.

This led to some altercation between the prosecution and defence teams and one of the prosecutors asked the court to 'put Dar behind bars' to make his counsel appear. He said Dar might also be asked to change his counsel.

"These remarks and attitude is really uncalled for and the court should take notice of it," a defence counsel Momina Advocate said while raising objection. Meanwhile, the court asked Dar to come forward and explain why his counsel was absent.

Indictment delayed: Rowdy lawyers disrupt accountability

Dar told the court that Haris had to go abroad and that he was informed about this by one of the counsel's associates in the morning. On the suggestion that he might allow one of the defence counsels to cross-examine the witness, Dar said it would be more satisfying for him if lead counsel did that.

Dar and the counsels later requested the court to adjourn the hearing till next Wednesday but the court adjourned the hearing till Monday.

Nawaz, Maryam and Safdar's indictment

The court also issued directives for today's [Thursday's] hearing in which deposed prime minister Nawaz Sharif, his daughter Maryam Nawaz and son-in-law Captain (retd) Safdar are likely to be indicted.

It also directed the prosecution and defence teams as well as the court reporters and the officials accompanying the suspects to ensure minimum number of people inside the courtroom.

This instruction was issued in order to avoid a situation that emerged in the previous hearing when the PML-N lawyers protested in the courtroom. Indictment proceedings might also be affected due to Khawaja Haris's absence.