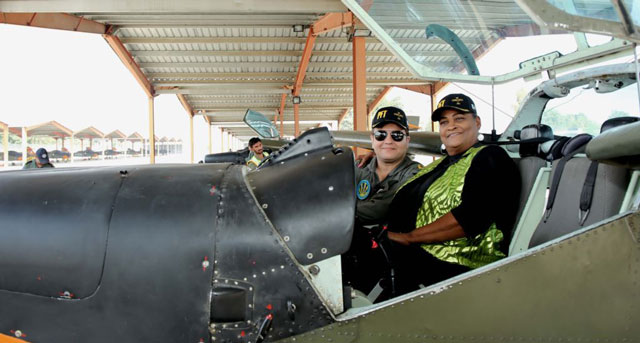 ---
ISLAMABAD: Khalilah Camacho Ali, widow of three-time world heavyweight boxing champion Muhammad Ali visited PAF's Asghar Khan Academy on Sunday.

According to a PAF statement, she interacted with officers and cadets during her visit to the Flying Training Wing of the prestigious academy.

Being an enthusiastic aviator with 830 flying hours to her credit, she flew a training mission in the Super Mushshak aircraft.

Talking to the aviation cadets and flying instructors, Camacho Ali appreciated the professionalism of the flying instructors and the training standards at the academy.

She expressed her gratitude to Air Chief Marshal Sohail Aman for inviting her to visit the PAF academy, and giving her the opportunity to fly in a PAF aircraft. "It was like a dream come true to visit this esteemed institution," she said.

She was also the guest of honour the final of Women Squash Tournament held at Mushaf Squash Complex, Islamabad.

Camacho Ali lauded efforts of Pakistan Squash Federation in providing world-class squash facilities for young girls.

The 74-year-old sports hero, who had been battling Parkinson's disease for decades, passed away in June 2016.