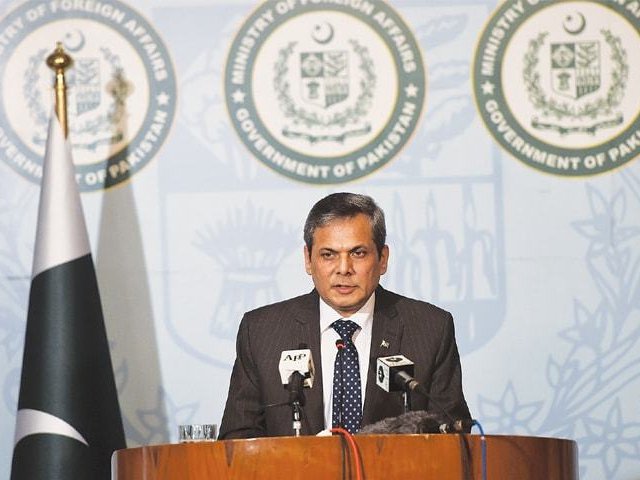 ---
Foreign Office Spokesperson Nafees Zakaria said on Friday that the recent meeting with US delegation was 'very constructive'.

In his opening remarks at the weekly press briefing, the spokesperson talked about PM Abbasi's meeting with US Vice President Mike Pence, and Foreign Minister Khawaja Asif's meetings with US Secretary of state Rex Tillerson and NSA during his visit to Washington last week.

"The meeting with the US delegation was very constructive and both sides agreed to continue engagement at all levels," Zakaria added.

In response to a question on Foreign Minister Khawaj Asif's statement on taking action against terrorist groups , the spokesperson said that the remarks should be seen in the context that terrorism is a common enemy and requires cooperation from all countries of the world.

"Pakistan is prepared to take action on the basis of actionable intelligence sharing and effective cooperation in counter terrorism efforts. Recent example of such cooperation is the successful recovery of a Western couple and their children from the captivity of the terrorists. Our counter-terrorism operations Zarb-ul-Azb, Radd-ul-Fasad and Khyber Operation have already reaped successes in the fight against terrorism," he maintained.

Reiterating Pakistan's stance that any expanded Indian role in Afghanistan will not be in the interest of the region, Zakaria stated reminded that New Delhi was engaged in using terrorist outfits against Islamabad.

"We have provided credible evidence in this regard," he added.

He said Pakistan has always emphasised for an Afghan-owned and Afghan-led reconciliation process for the resolution of the conflict.

Army says 'joint operation' on Pakistan's soil out of question

Condemning the atrocities carried out by the occupation forces in held Kashmir he said that the brutal killings continue.

"In the last four days, reportedly seven Kashmiri youth have been martyred. We condemn Indian atrocities in IoK against innocent Kashmiris and urge the international community to act now to stop Kashmiris' bloodshed and call India to account for the heinous crimes being committed by its occupation forces in IoK," said Zakaria.

He also added that Pakistan urges the formation of a "fact-finding mission" and sending it to IoK as demanded by the UN high commissioner for the human rights council, OIC Contact Group on Kashmir, OIC's IPHRC and Parliamentarians and members of civil society from across the globe.

Russia warns Trump against piling up pressure on Pakistan

"Pakistan has been effectively raising the issue of Kashmir at International Forums. The FS briefed the US delegation on HR violations in IoK," Zakaria said.

"We have highlighted the brutal use of pellet guns by Indian forces against unprotected Kashmiri people that has left a generation of young Kashmiris blinded and maimed for life. This has been aptly described as the first mass blinding in human history," Zakaria said on the atrocities committed in IoK.

"Non-resolution of this dispute by the UN has encouraged India to prevent the people of occupied Jammu and Kashmir, through force and fraud, and from 'exercising their fundamental inalienable right to self-determination," the spokesperson said as he commented on the UN's delayed decision making. Indian deployment of 700,000 Indian troops in occupied Kashmir to suppress the legitimate freedom struggle of the Kashmiri people, is a blatant violation of the UNSC Resolutions on Kashmir," he added.

A full-time foreign minister finally

"People of J&K look towards international community and are waiting for the UN to fulfill its promise of holding a UN-supervised plebiscite to enable them to determine their political destiny," he concluded.

He also emphasised on the recent activities of the ministry; the foreign secretary's visit to Russia leading the delegation to the meeting with the SCO Contact Group on Afghanistan.

"She also held bilateral meetings with the Russian Deputy Foreign Minister Igor Morgulov, and Russian President's Special Representative on Afghanistan Ambassador Zamir Kabulov," he said.
COMMENTS
Comments are moderated and generally will be posted if they are on-topic and not abusive.
For more information, please see our Comments FAQ