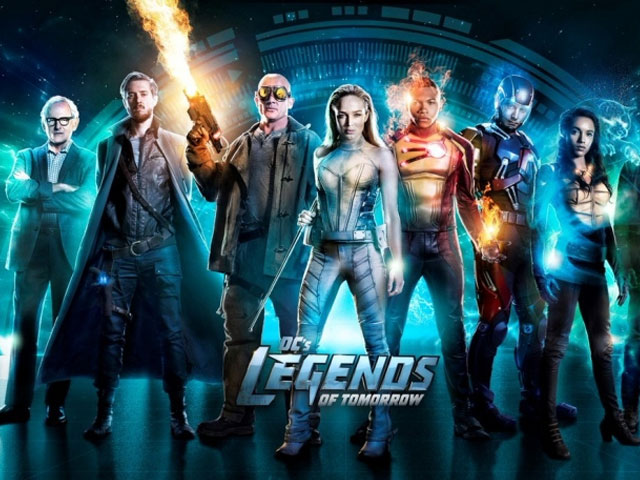 ---
DC's Legends Of Tomorrow's latest superhero Zari, is a Muslim computer hacktivist from 2042 - a character that was also shaped up to tackle Islamophobia in America, reports The Straits Time.

The character played by Iranian-American actor Tala Ashe is beyond perfect. She is all set to join heroes Rip Hunter (Arthur Darvill), Atom (Brandon Routh), Heat Wave (Dominic Purcell) and Captain Cold (Wentworth Miller) as they return in Season 3 of the show, which airs in Singapore on Warner TV (StarHub TV Channel 515).

Talking to the press in Los Angeles, showrunner Marc Guggenheim says that since he and his team began working on Legends Of Tomorrow, "We all recognised that there weren't enough women on the bridge of the Waverider", the team's time-jumping ship.

Some superheroes fight villains, others defeat cancer

"And it's something we'd been looking to address. And we were talking about bringing on a female character and what her powers could be," says the writer and producer of the show. Legends of Tomorrow is a spin-off of the DC Comics-inspired series Arrow and The Flash.

Previously, US President Donald Trump unveiled a ban on travellers from several Muslim countries. So the main reason to get a Muslim hero in the show was a retort to that. "All sort of gravitated towards the idea of the character being Muslim", says Guggenheim.

Yet he insists the creation of Zari was "not to make a political statement" or to "make it a thing".

"One of the things that we really pride ourselves on is that someone's race, religion or sexual orientation is not the only aspect of their character" said the director of the show.

New comic book aims to change public perception of transgender community

Guggenheim did, however, draw inspiration from his own family, who has been directly affected by anti-Muslim sentiment in the US.

"Just to get personal for a second, my sister-in-law is Muslim and, talking to her, I realised how difficult it is to be a Muslim-American in the current political climate."

With Zari, he wanted to create a character "who, other than being a computer hacker, a superhero and from the future, also happens to be Muslim" in the way another Legends Of Tomorrow hero, Jax (Franz Drameh), "happens to be Christian, or Felicity Smoak on Arrow happens to be Jewish".

It is a nice, important aspect of her character, says Guggenheim, who also heads production on Arrow.

Ashe, born in Iran and raised in Ohio in the US, wishes she had a character such as Zari to look up to when she was young.

"Representation is a really powerful thing and, when I was growing up and watching television, I didn't see anyone who looked like me," she said.

"When I think about the child me in Ohio, it broadens your perspective. And what I think is so lovely about the show is that Legends Of Tomorrow is this tapestry that reflects the America of today, and Zari is joining in, further diversifying that."

Comic, UN Envoy Lilly Singh calls for free speech, tolerance in India

Guggenheim believes superheroes in general are popular now because leaders and institutions have disappointed many.

"I have this theory that it's not just politicians - a lot of the heroes of real life are letting us down, a lot of the institutions that we typically would look to and go, 'Oh, I want to be like this person' or 'This person is going to save the world or make something better.'

"So as a society, I think the reason the audience and creatives are gravitating towards superheroes is wish-fulfilment.

"They're looking to find a little bit of hope and escapism," says Guggenheim, whose younger brothers Eric and David produce, respectively, Hawaii Five-O and Designated Survivor.

"We don't wish necessarily that superheroes existed, but we certainly wish that there were people and institutions that we could like to be inspired by and find hope in."

Have something to add to the story? Share it in the comments below. 
COMMENTS (1)
Comments are moderated and generally will be posted if they are on-topic and not abusive.
For more information, please see our Comments FAQ