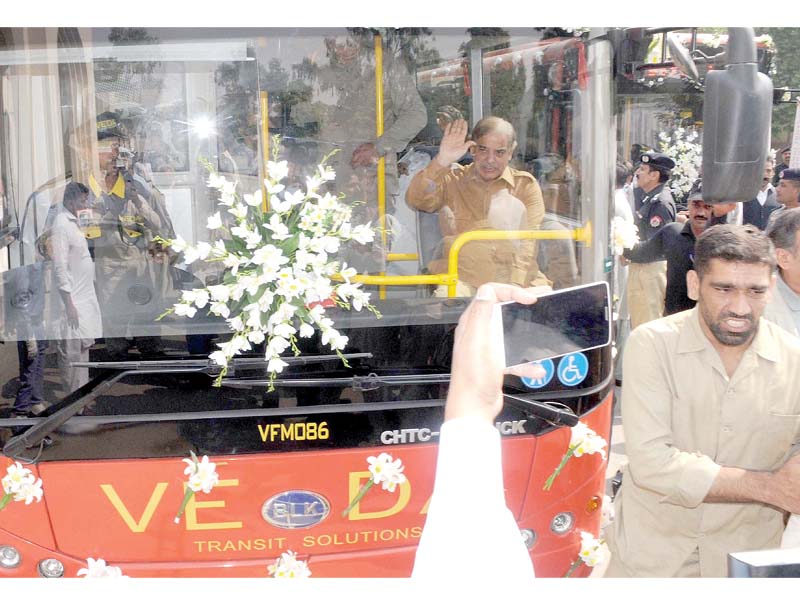 ---
LAHORE: Punjab Chief Minister Muhammad Shehbaz Sharif has said that the metro bus project (MBS) in Multan has become a benchmark for South Punjab's uplift.

He said that former prime minister Muhammad Nawaz Sharif inaugurated the landmark project in the historical city. "Now 100 air-conditioned feeder buses will ply the city roads," he added.

Work on extension of Metro Bus gains momentum

The chief minister expressed these views while addressing a public gathering after inaugurating Multan integrated feeder bus service at Circuit House on Thursday.

On the occasion, he said the Punjab government initiated several steps to bring South Punjab at par with Central Punjab. "Multan is the third city where metro bus project has been launched," he said.

He criticised Pakistan Tehreek-e-Insaf for not taking even a single step for introducing metro in Khyber-Pakhtunkhwa despite announcing it in 2014. Shehbaz Sharif maintained even after the passage of more than four years in government in Khyperpakhtunkhwa, the project could not be materialised.

He said when Punjab government launched metro bus service in Lahore in 2012, the PTI termed it "Jungla bus" and had alleged that Rs70 billion were spent on the project though Rs30 billion were utilised on it.

The Punjab CM highlighted various mega development projects across South Punjab. "No other government except PML-N worked hard to bring unprecedented development in South Punjab," he remarked.

Multan metro bus: Senate panel grills SECP for stagnant corruption probe

He said the Punjab government extended interest free loans to over 0.2 million small farmers with an amount of Rs100 billion. He directed the district administration to make women college at grain market functional at the earliest and said that work on Safari park project should be initiated immediately.

He also directed the officials to check the possibility for plying feeder buses from Naag Shah to Multan.

Meanwhile, Multan Mayor Naveedul Haq Arain identified various issues of the city and requested grant for establishing municipal corporation offices.

Published in The Express Tribune, October 13th, 2017.
COMMENTS
Comments are moderated and generally will be posted if they are on-topic and not abusive.
For more information, please see our Comments FAQ