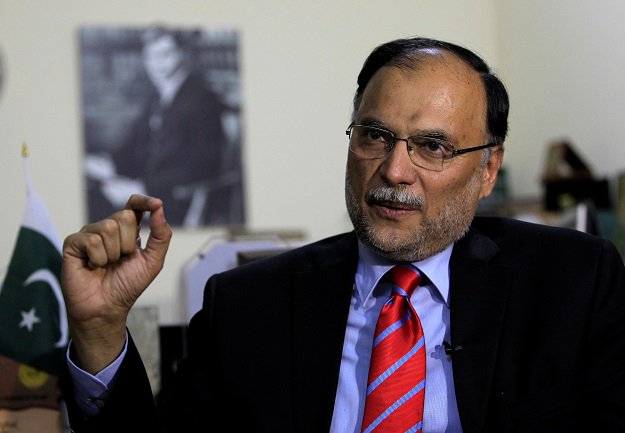 ---
ISLAMABAD: Interior Minister Ahsan Iqbal will be travelling to the United States this week for a five-day visit that indicates growing engagement between Islamabad and Washington following the harsh criticism of Pakistan by US President Donald Trump in his policy for Afghanistan and South Asia.

Iqbal's trip would come on the heels of a three-day visit by Foreign Minister Khawaja Asif, who met his American counterpart Rex W Tillerson and National Security Adviser Lt Gen H R McMaster last week to convey Pakistan's concerns over Trump's Afghan strategy which envisages a greater role for India in the war-ravaged country.

In his August 21 policy speech, Trump pilloried Pakistan for allegedly sheltering 'agents of chaos' – a reference to the Taliban who have been waging a bloody insurgency in Afghanistan that American forces have been unable to quell in 17 years. Islamabad scoffed at Trump's accusation, saying it would not become a 'scapegoat' for the US failure in Afghanistan.

Iqbal's engagements have yet to be officially finalised and sources told The Express Tribune that his visit would be personal.

Pakistan, China snub US objection over CPEC project

"Ahsan Iqbal has been planning to visit the US since last month to see his newly born grandchild. His daughter-in-law, the wife of Ahmad Iqbal, has been pursuing a PhD degree in the USA," one source said. The minister is also likely to meet the Pakistani expatriate community.

The AFP news agency reported on the authority of unnamed sources on Saturday that Secretary Tillerson and Defence Secretary Jim Mattis would travel to Islamabad late this month. Their agenda was designed to drill home Trump's message that the alleged Pakistani state support for militant groups had to end, according to officials briefed on the visits, the report added.

Analysts say the two sides need to engage to improve cooperation, especially for restoring peace in Afghanistan where the US-led military campaign has entered its 18th year. Islamabad has repeatedly said that it is ready to help in every possible way in an Afghan-led peace and reconciliation process.

According to the VOA Urdu, Pakistan is also playing a leading role in a quadrilateral session in Muscat, aimed at bringing the Afghan Taliban to the negotiating table. The session will be held in Oman's capital on October 16.