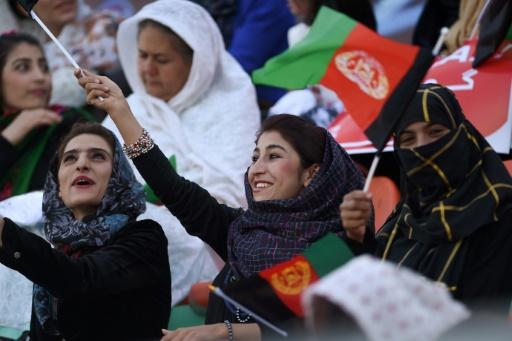 ---
KABUL: Shiba Rahimi, a demure pale pink hijab covering her hair, sits forward in her seat and does a shrill two-finger whistle at the male footballers darting around the all-weather field in Kabul.

The university student is one of dozens of football-mad women sitting in the female section of the Afghan capital's main stadium enjoying a rare opportunity to have fun in public in patriarchal Afghanistan.

"Women are not harassed or bothered by anyone here. It is a good place for women," 21-year-old Rahimi tells AFP, as she sits with her family watching the Afghan Premier League [APL] clash between Toofan Harirod and Simorgh Alborz.

A cross section of women - students, professionals and grandmothers - hold red "Goaaal!" posters and wave Afghan national flags as they scream the names of their favourite team, their faces beaming.

'Where is my name?' Afghan women seek right to identity

Women, some partially veiled to only show their eyes, trickle into the stadium throughout the game. To reach their segregated seating next to the VIP section they must walk past a men's stand under the gaze of scores of eyes. It is a scene that would have been unthinkable during the Taliban's repressive and misogynistic regime when women were largely confined to their homes and, when they did venture outside with a male escort, hidden from view under burqas.

The ground where the game is under way is close to the old stadium where matches held under the Taliban's 1996-2001 rule featured public executions with criminals hanged or shot and thieves' hands cut off. In the sixteen years since the Taliban was toppled by a US-led invasion, women have been allowed to attend men's matches and even play the sport.

Only a few female supporters went to games in the beginning but as memories of the Taliban years faded and women footballers and fans appeared more frequently on television they began showing up in greater numbers - but only with the permission of their husbands and families. Still, that is greater freedom than women in some other Muslim countries, such as neighbouring Iran and Saudi Arabia, enjoy.

Morsal Sadat is one of the lucky ones. The 16-year-old high school student says her family lets her play and watch football. "I came here to watch and learn some new tricks from our players," Sadat says.

Despite being vastly outnumbered by men in the 6,500-seat stadium, the enthusiastic female fans overshadow their male counterparts with their exuberant support. The men do not appear bothered by their female counterparts - some even use their proximity to girls to flirt through the barrier.

Afghanistan has made strides to promote female football - it has a national side and three years ago launched its first all-women's football league that ran in parallel with the men's APL. But this year the female teams were sidelined by a lack of funding.

Security is a major concern for spectators attending sporting venues in Afghanistan where large gatherings of any kind are often targeted.
During last month's Shpageeza Cricket League a suicide bomber blew himself up metres from the stadium, killing three people.

Afghan women shelters bring succor to abuse victims

But in a country where daily life is often interrupted by deadly attacks by insurgents the female football fans say they refuse to be intimidated into staying home.

Khatira Ahmadi, 20, says: "It is true that there is widespread insecurity in Afghanistan, and we witness one blast or two blasts every day, but we don't get frightened. [We] cannot ignore the sport we love."