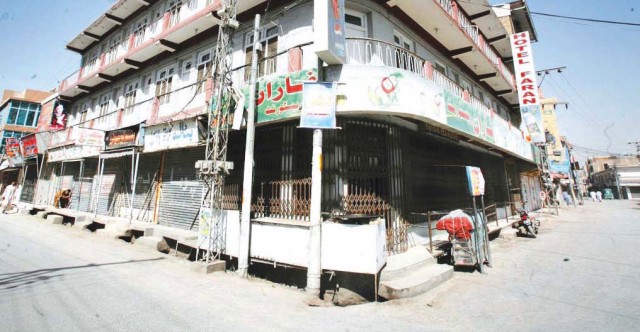 ---
QUETTA: A complete shutter-down strike was observed in the provincial capital on Friday in protest against ethnic and political target killings in Karachi.

The strike call was given by the Pakhtunkwa Milli Awami Party (PkMAP) and supported by the Jamiat Ulema-e- Islam, Awami National Party and Balochistan Traders' Association. All shopping centres in downtown neighbourhoods of the city, including Jinnah Road, Liquat Bazaar, Prince Road, Joint Road, Brewery Road, Abdul Sattar Road, Kandari Bazaar, Saryab Road, Golimar Chawk were closed.

And traffic remained off the road. Heavy contingent of police and paramilitary Frontier Corps patrolled main arteries and thoroughfares of the city to maintain order. Hundreds of PkMAP workers also staged a rally in Kuchlak Town to condemn targeted killings of "Pashto-speaking" people in Karachi. Carrying banners and placards, charged protesters marched on different roads and shouted slogans against the Sindh government for "its failure to maintain order and check target killings."

A spokesperson for the PkMAP blamed the Muttahida Qaumi Movement (MQM) for target killings in the city. In a statement issued by the party, the spokesperson demanded the authorities hold a transparent investigation into the incident. He also urged the judiciary to take action against those responsible for the May 12, 2007 violence in Karachi. Separately, the Balochistan National Party (BNP) also staged a protest outside the Quetta Press Club on Friday against targeted killings of Pakhtun people in Karachi.

Addressing the protesters, BNP leaders, including Habib Jalib and Agha Hassan Advocate, strongly condemned target killings in Karachi, saying that a particular ethnic group was given a free hand to kill innocent people in Karachi. They alleged that instead of arresting the killers, the government was protecting them.

They demanded the government take strict action against those involved in target killings in Karachi. Protesters also protested against the arrest of BNP workers in different parts of the province by security forces. "If the arrest of Baloch people continued, then we will launch a protest campaign against the government," Habib Jalib said. He alleged that security forces arrested BNP worker Razzaq Lango and his brothers without any reason.

Published in the Express Tribune, May 22nd, 201.
COMMENTS (1)
Comments are moderated and generally will be posted if they are on-topic and not abusive.
For more information, please see our Comments FAQ