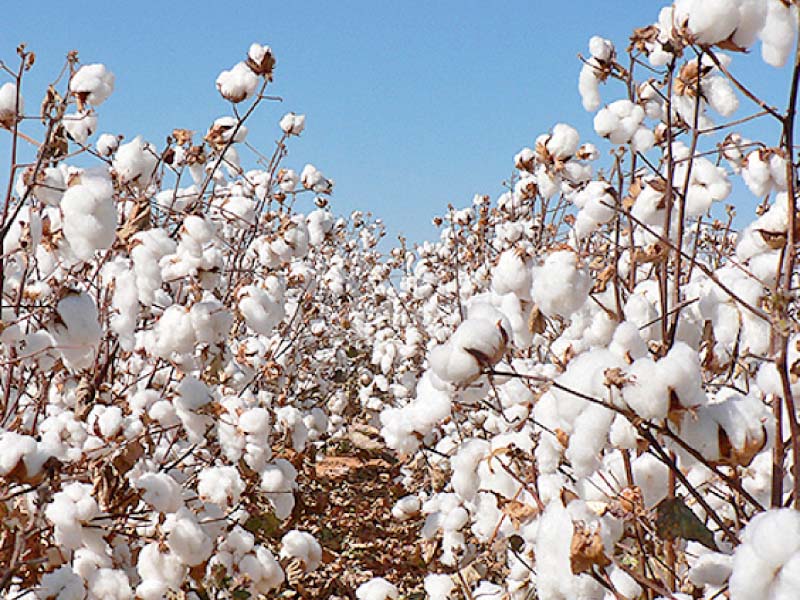 ---
MULTAN/ SARGODHA: Central Cotton Research Institute (CCRI) Multan Director Dr Zahid Mahmood has said that the CCRI scientists were busy in experiments to develop new cotton varieties with capability to survive amid extreme hot weather conditions and water shortage.

PCJCCI president vows cooperation with cotton industry

He said this while addressing a one-day Farmers Field Day programme organised by the CCRI in Multan. He said farmers would soon witness such varieties growing in the fields and the country's development and agriculture revolution depended on the prosperity of the farmers.

He added that cotton was passing through last stages of maturity and urged farmers to ensure picking of clean cotton and adopt proper techniques for the purpose.

Mahmood maintained that storage and safe transportation of cotton should also be ensured to get premium price. He said the government was making all-out efforts to create awareness among the farmers regarding modern technology and agriculture equipment.




He stressed the need on better farm management as it could result in delivering good cotton yield.

Meanwhile, the agriculture department will organise competitions among farmers to enhance per acre production besides encouraging them for the best crops.

While chairing a meeting of divisional task force and Agricultural Advisory   Committee, Additional Commissioner Malik Ziaullah said concrete efforts were being made to increase per acre production. He maintained that sprinkling and drip irrigation system was also being introduced to fulfill the water shortage.

Innovation: UAF develops new cotton variety

He pointed out that heavy machinery would be provided to those farmers producing best crops. He said that 80% subsidy would also be provided to farmers for installation of solar system for sprinkling and drip irrigation units.

Earlier, scientists of the University of Agriculture, Faisalabad developed a new cotton variety 'Punjab 896' which is heat-tolerant and is instrumental in increasing cotton productivity.

Heavy rainfall, high temperatures and major pest outbreaks have taken a heavy toll on cotton growing districts of Punjab in 2015. The Ministry of Textile Industry has expressed concern over the 28% drop in cotton production caused by climate change-induced phenomena.

Officials said the erratic weather proved lethal for the production of cotton, one of the country's key cash crops. They said cotton production may continue to slide due to climate change.

Published in The Express Tribune, September 30th, 2017.
COMMENTS
Comments are moderated and generally will be posted if they are on-topic and not abusive.
For more information, please see our Comments FAQ