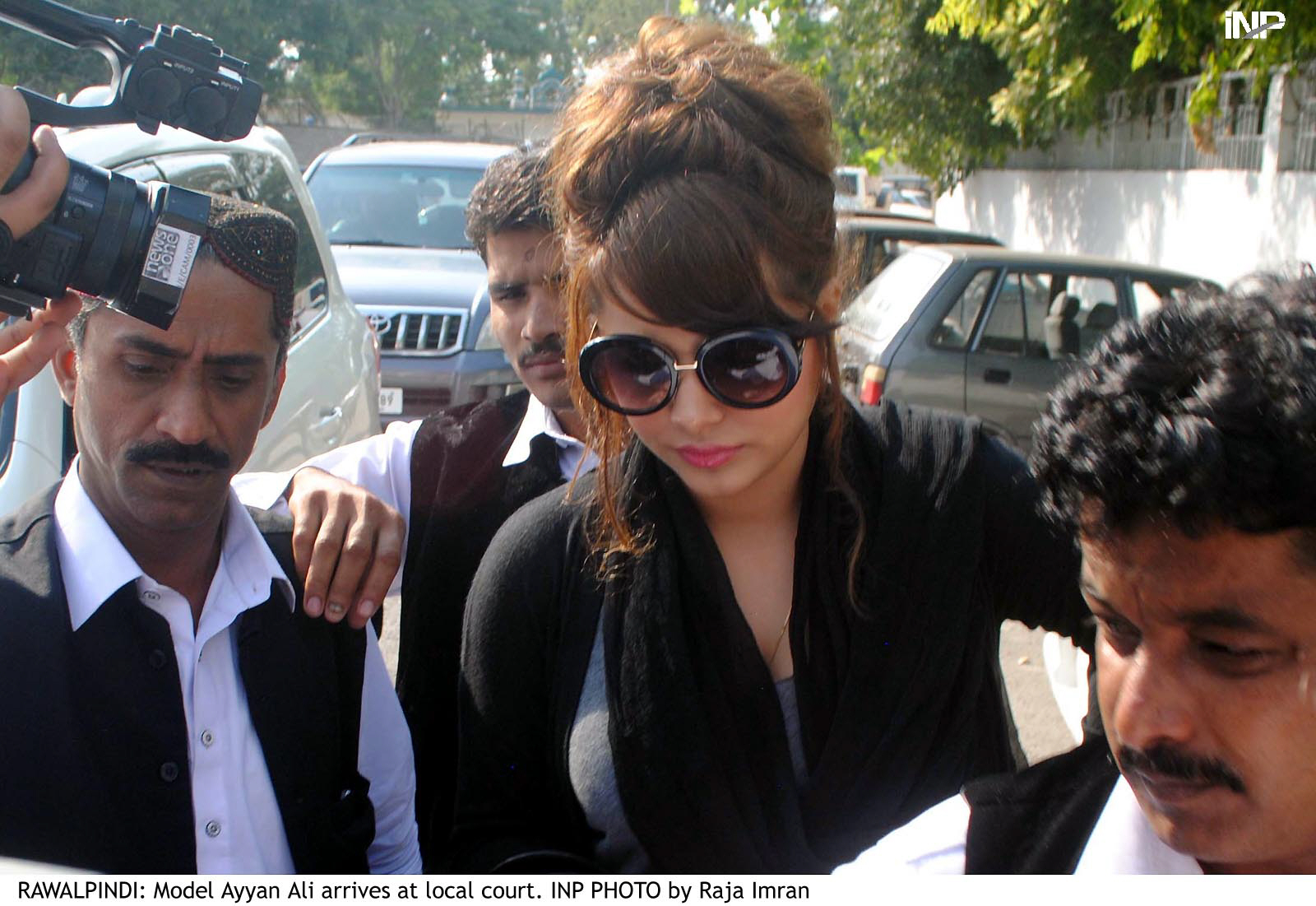 ---
KARACHI: An officer of the Airport Security Force (ASF) claimed before a committee of the National Assembly on Thursday that a personal employee of a former president had tried to rescue model Ayyan Ali when she was caught at the airport over two years ago on charges of smuggling foreign currency.

"A personal employee of former president of Pakistan raised hue and cry when model Ayyan Ali was caught red-handed at airport while smuggling $0.5 million. We have all proof how this man attempted to save the model girl by convincing the Airport Security Force that the money was being sent for the construction of a mosque," ASF Deputy Director General Brigadier Imranul Haq said.

Name on ECL: Ayyan appeals for early case hearing

During a briefing on drug smuggling cases, the NA Standing Committee on Cabinet Secretariat, headed by Rana Mohammad Hayyat, was informed that the employee of the former president was facilitating the model and could be seen in the video recorded in March 2015 at the Islamabad airport. ASF officials alleged that political influence was being used to suppress the voice of the security officials deputed at the airport.

Ayyan was arrested at Shaheed Benazir Bhutto International Airport while boarding a flight to the United Arab Emirates with $506,800 without the permission of the State Bank of Pakistan. She was sent to jail and the government put her name on the Exit Control List. But she subsequently left for Dubai after she was released on bail and a court ordered the removal of her name from the ECL.

Penalty challenged: IHC adjourns Ayyan's plea against fine

Smuggling through planes

Officials of the Anti-Narcotics Force (ANF), customs and PIA also briefed the committee.

It was informed that at least four cases of smuggling through PIA planes had been reported. PIA Vigilance Director Brig (retd) Mohammad Asif said it was the responsibility of the ASF and other authorities to prevent such incidents. "There is an international mafia behind the smuggling of drugs through PIA planes," he said.

ECL issue: Order reserved on maintainability of Ayyan's plea 

The standing committee's chairman expressed dismay over the incidents. "Have you arrested any officer except for sweepers?" he enquired from the officials who informed him that 16 suspects had been arrested in connection with the heroin seized from an aircraft at Heathrow Airport. "Seven of the suspects belong to Sindh and nine to Punjab," they said, adding that the main culprit in the case belonged to Karachi and two arrests had been made a couple of days ago.
COMMENTS
Comments are moderated and generally will be posted if they are on-topic and not abusive.
For more information, please see our Comments FAQ