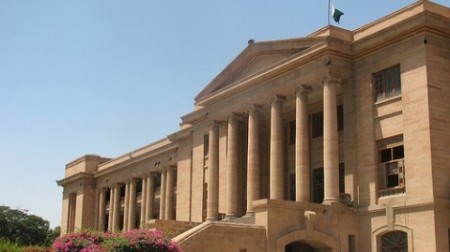 ---
KARACHI: The government has issued notices to 85 plot owners in Gadap and Malir for setting up farmhouses on land given to them for poultry and dairy farms.

The action was taken by District Officer Revenue Shaukat Jokhio who told The Express Tribune that he had assumed office a few days ago but this was one of the first things he did. Their allottments can even be cancelled if an examination of the papers revealed the rules had been broken. These farmhouses, dotted with persimmon and coconut trees, started to appear around 2005. Today many of them are luxurious getaways from Karachi city with swimming pools, standby generators, restaurants, kitchens and water, electricity and gas connections.

Armed security guards make sure that no unwanted visitors come close to the grounds which range from two to 20 acres. Some of the farms belong to families while others can be rented out at the slightly steep starting price of Rs10,000 for two-bedroom places. Part of this picture are the poultry farmers of the area who are facing the expiry of their land leases by the end of this year. The chairman of the Pakistan Poultry Association, Engineer Ahmed Wasim, said that their 30-year leases for poultry farms were given to them in the 1970s.

They were extended but now they will expire end-2010 in Gadap Town. With so many poultry farmers panicked, they are eyeing other land. "We demand the authorities to take action against people who acquired land for poultry farms and sold it to influential people who have now built farm houses there," he said. None of this would have been possible without the support of revenue officials, he alleged. The 'influential' people are former MPAs, ministers, senators and even the senior vice-president of a political party. The Express Tribune contact a member of the Land Utilisation Department, Additional Secretary Dr Azhar Hussain. He said that the land was allotted by the defunct district administration and now it was the responsibility of a DO Revenue to take action.

The farmhouses stand out in stark contrast to the poverty of Gadap and Malir, two of Karachi's most ignored towns. "The surrounding area is neglected. They don't even have drinking water," said Hussain Khaskheli, a social worker from Memon Goth. "But when you enter a farmhouse, you see a whole new world."

Published in the Express Tribune, 22nd, 2010.
COMMENTS
Comments are moderated and generally will be posted if they are on-topic and not abusive.
For more information, please see our Comments FAQ