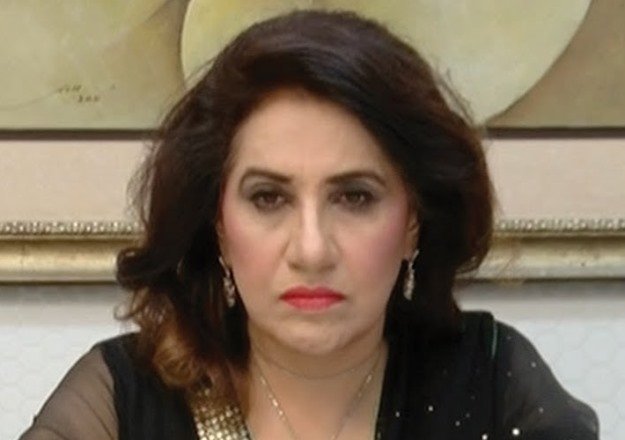 ---
ISLAMABAD: Pakistan Tehreek-e-Insaf (PTI) leader Uzma Kardar landed in trouble on Tuesday when she was reprimanded for taking selfies in a courtroom.

The Islamabad High Court (IHC) was hearing a petition of a PTI official seeking the disqualification of Foreign Minister Khawaja Asif when she was caught snapping pictures with party colleague.

Kardar's phone was confiscated by a court official, as courtroom photographing and broadcasting is restricted around the world.

It was found that Kardar had taken nine selfies with Naeemul Haque.

PTI's Naeemul Haque retracts statement accusing Gen Kayani of rigging elections

IHC's Justice Mohsin Akhtar Kayani ordered Kardar to submit a written apology for violating courtroom discipline.

She was handed back her cell phone after she apologised to the court and deleted the selfies.

Earlier, The Express Tribune erroneously reported that Haque's  phone too was confiscated. The court official had not taken away his cell phone. He also tweeted to clarify this:

https://twitter.com/naeemul_haque/status/912713233198407682

However, Haque is not new to controversies.

Last month, he had admitted on Twitter that he had discussed marriage with estranged PTI MNA Ayesha Gulalai.

The tweet which was deleted hours later read, "Should I apologise for discussing marriage with Ayesha Gulalai? No I don't think so. Nothing wrong with that." The tweet came shortly after Ayesha Gulalai during a talk show alleged she had received a text message from Naeemul Haque asking for her hand in marriage.

PTI's Naeemul Haq apologises for 'Fatemi in China' tweet

Gulalai alleged the PTI spokesperson texted her saying, "I am alone and want to marry". Later,  PTI leader Shafqat Mehmood rushed to Haque's aid claiming that the party spokesperson's Twitter account was hacked.

Also, a probe into the slain PTI leader Zahra Shahid Hussain's murder had allegedly uncovered an email wherein she had asked the party's female members to stop attending PTI rallies because of Haque's "persistent and most unwelcome and unsavoury harassment" of women.

As for Kardar, she hit the headlines in June this year when she interrupted State Minister for Information Marriyum Aurangzeb midway for "being too lengthy".

Kardar attempted to takeover the podium in the middle of the presser after she complained of hot weather, and called out the minister for taking too long to finish her media talk.
COMMENTS (5)
Comments are moderated and generally will be posted if they are on-topic and not abusive.
For more information, please see our Comments FAQ