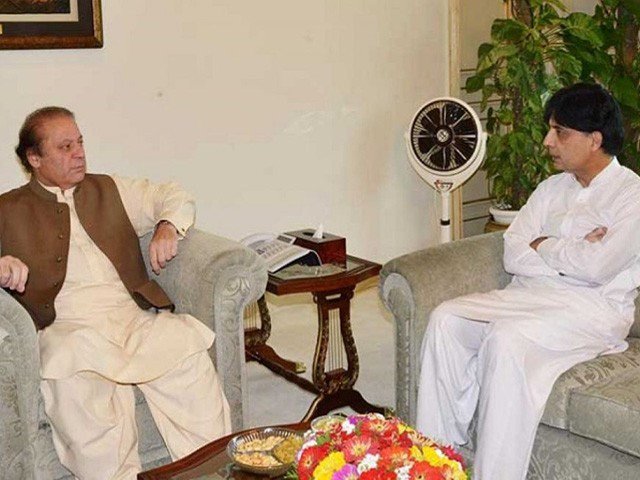 ---
In an unexpected development, ex interior minister Chaudhry Nisar met deposed premier Nawaz Sharif as the latter arrived in the country from London on Monday.

Express News reported that Nisar met Nawaz at Punjab House, Islamabad, and inquired about the health of Kulsoom Nawaz, former premier's wife who's under treatment for lymphoma, and wished for her early recovery.

Pakistan Muslim League-Nawaz leaders Pervez Rashid and Asif Kirmani, among others, were in attendance on the occasion.

The two leaders, sources said, spoke about the concerns and reservations relating to the party's affairs and the political situation of the country.

Nawaz consults PM, party leaders on accountability court summon

In an informal talk with reporters on September 19, Nisar took a dig at Abbasi and said no one had objections to "in-house cleaning" but government officials should stick to taking concrete steps instead of issuing statements.

Nisar was referring to recent statements made by Abbasi in which the PM had said that he backed Foreign Minister Khawaja Asif's statement that "our own house should be cleaned".

The former interior minister had earlier expressed his concerns relating to a culture of flattery within the party. He had also expressed disagreement with how the party, under Nawaz's lead, reacted to proceedings of the Panama Papers case. Nisar had also advised the deposed PM to avoid confrontation with the institutions and accept the top court's verdict in the case.
COMMENTS
Comments are moderated and generally will be posted if they are on-topic and not abusive.
For more information, please see our Comments FAQ