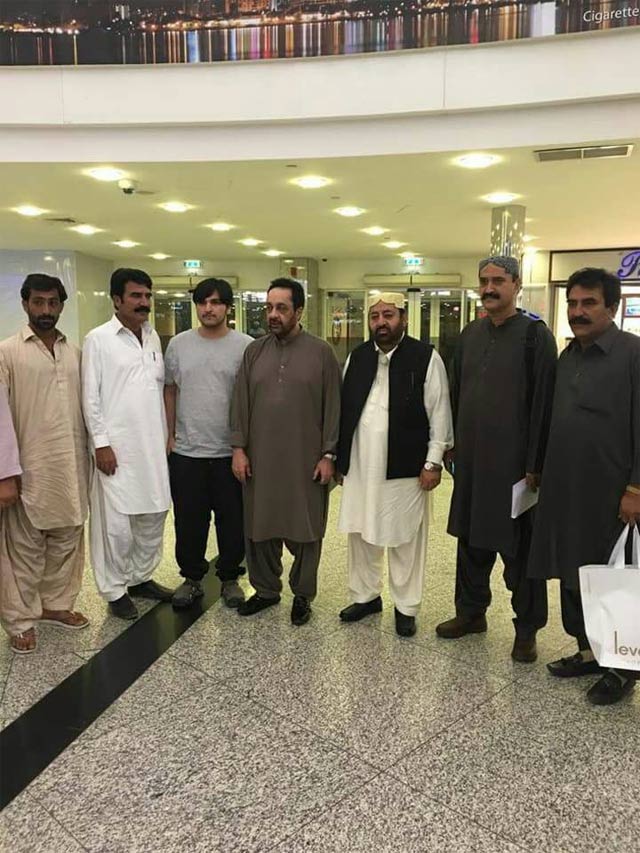 ---
QUETTA: Balochistan's former home minister Nawabzada Ghazain Marri was whisked away by the personnel of law enforcing agencies (LEAs) as soon as he landed at the Quetta international Airport on Friday to end his 18-year-long self-exile.

Ghazain arrived in Quetta from Dubai on Friday forenoon via flight number PK-G9. However, as soon as he stepped on to the Pakistani soil, the LEA officials took him into custody and shifted him to an undisclosed location, presumably for preliminary interrogation.

Ghazain, who is a son of Marri tribe's former chief Nawab Khair Bakhsh Marri, has been facing multiple cases, including one involving the murder of a high court judge. He had told the media in Dubai prior to his arrival that he would face all the cases in Pakistan and join the mainstream politics.

Ghazan Marri plans return to Pakistan after 18 years of self-exile

Living in the UAE in self-exile since 2000, Ghazain is a younger brother of PML-N leader Nawab Jhangez Marri and elder brother of Hyarbyar Marri, the chief of the outlawed Balochistan Liberation Army (BLA), and Zamuran Marri, the chief of banned United Baloch Army (UBA).

On Friday, the provincial government took strict security measures in and outside the airport as a large number of Marri tribesmen had gathered to welcome their chieftain. They were carrying a huge banner with Ghazain's picture.

Showing disappointment over his arrest, Ghazain's lawyer, Arbab Tahir, said his client was arrested despite having secured a protective bail from a court of law.

"We have been tracing out Mr Ghazain Marri and demand that security forces reveal his whereabouts and tell us in which case he has been picked up," Tahir told media outside the Quetta airport.

However, Balochistan Home Minister Sarfraz Bugti defended the move and said Ghazain was wanted in numerous cases including the January 2000 killing of Balochistan High Court judge Justice Nawaz Marri.

Brahamdagh Bugti set to seek asylum in India

"We have arrested the accused and he will be produced before the courts of law after primary interrogations," he said. "Ghazain's legal team had not produced any protective bail order before the provincial government."

The home minister said the government had to take care of the chieftain's security as "he has had close nexus with separatist militants".

"Ghazain's brothers – Hyarbyar and Zamuran – have been leading banned terrorist organisations and their group members may attempt to release him from police custody," Bugti said.

He said the government would scrutinise all criminal case against Ghazain in his native district Kohlu and other parts of Balochistan. "We can't anticipate the timeframe of court proceedings, but he will be presented before the courts and he will have to face the charges."

Earlier, the UAE had detained Ghazain on some charges on the request of Pakistan. He had been confined to his residence and the Gulf state had conducted prolonged investigations against him.

Ghazain had, however, been exonerated from the charges levelled by the Pakistan government as nothing could be found against him. The UAE had also turned down a request by Pakistan to repatriate him in connection with a money-laundering case.
COMMENTS (2)
Comments are moderated and generally will be posted if they are on-topic and not abusive.
For more information, please see our Comments FAQ