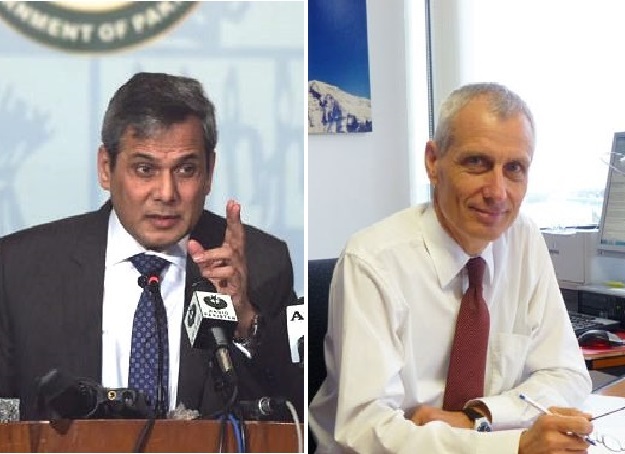 ---
ISLAMABAD: Swiss Ambassador-designate Thomas Kolly got an earful after being summoned to the Foreign Office by Additional Secretary for Europe Zaheer Janjua on Monday over the public display of anti-Pakistan posters and "an insidious paid campaign against Pakistan", by a group in Switzerland.

According to a Foreign Office statement, a strong protest was lodged with the ambassador over Swiss authorities permitting the use of its territory for propaganda by elements linked with the Balochistan Liberation Army (BLA), a "terrorist organisation which is perpetrating terrorism and violence in Pakistan".

It was also underlined that the 'Free Baluchistan' posters in Geneva's  had been sponsored by a group linked with the BLA, which has been proscribed by Pakistan as well as some other countries for its violent actions in Balochistan.

Kachhi canal inaugurated: PM asks 'misled Baloch' to shun violence

The ambassador was asked to "convey to his government Pakistan's strong protest on allowing space to a terrorist organisation to carry out activities against Pakistan's sovereignty and territorial integrity, in contravention of the UN Charter and international law".

The Swiss government was urged that as a host country and a close partner of Pakistan, it should take action against the perpetrators of the malicious campaign.

On Sunday, Pakistan's Permanent Representative to the United Nations in Geneva Farukh Amil wrote to his opposite number – Swiss Permanent Representative Valentin Zellweger – drawing his attention to the 'Free Balochistan' posters placed along Rue de Ferney in the Grand Sacconex municipality. The road leads to the UN office in Geneva.

In Geneva, posters of Baloch terror group draw ire of Pakistani envoy

The letter – a copy of which is available with The Express Tribune – says that since Monday, Pakistani diplomats identified at least eight posters which list 'Baluchistan House' as its sponsor, along with one digital poster. They also identified a car with local plates that appeared to be guarding the posters.

While protesting the attack on Pakistan's sovereignty that is constituted by the posters, the ambassador explains to his opposite number that 'Baluchistan House' is an affiliate of the BLA, which is recognised as a terrorist group by Pakistan, the United Kingdom, and other countries.

The Pakistani envoy moves on to urge the Swiss to address the issue. "The use of Swiss soil by terrorists and violent secessionists for nefarious designs against Pakistan…is totally unacceptable. The fact that terrorists [operate openly] in Geneva…is a matter of grave concern."

BLA claims attack on Jinnah residency in Ziarat

The BLA is a terrorist separatist organisation that operates from Pakistan and Afghanistan. The group's operations in Pakistan are believed to be restricted to Balochistan, where it has carried out carries out numerous attacks against armed forces personnel and civilians. It has also been involved in assassinations, murder, and kidnappings of government officials and civilians, along with religiously motivated attacks against minorities.

Most recently, it claimed credit for killing eight FC officials with a roadside bomb in Harnai on August 14, and for gunning down 10 labourers in Gwadar on May 13, 2017.


COMMENTS (5)
Comments are moderated and generally will be posted if they are on-topic and not abusive.
For more information, please see our Comments FAQ