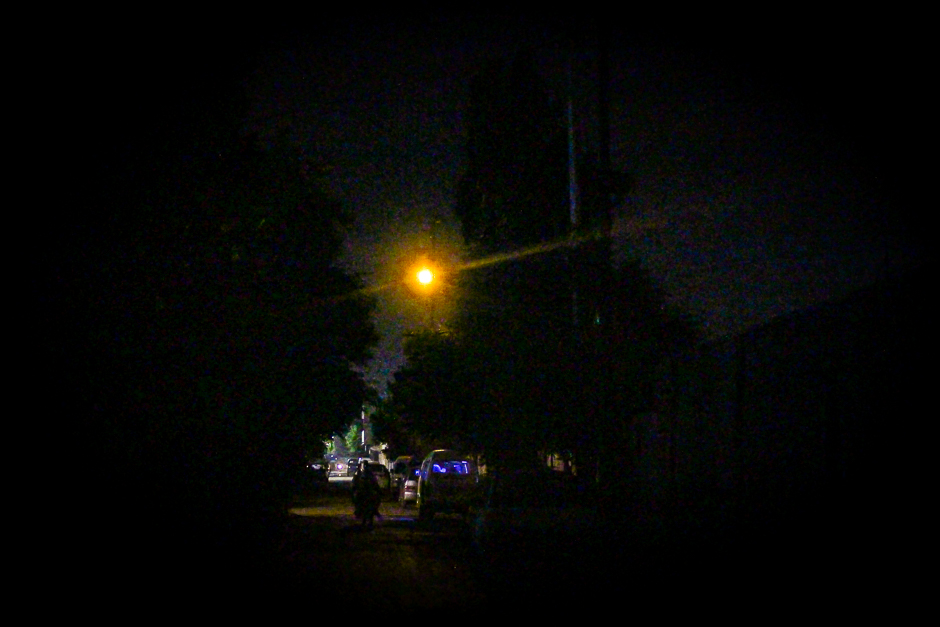 ---
KARACHI: Pakistan's largest city, Karachi, is home to as many as 14.9 million people. There was a time when the metropolis was known as the city of lights for its vibrant nightlife.

A decade ago the provincial capital was thought to be the fastest developing metropolitan city in the country, with its administration setting new standards of progress and advancement for other cities around the country. But just after a decade the city's state of affairs present a completely different picture of what it once looked like.

The political tug-of-war among its managers coupled with bad governance has left Karachiites holding the short end of the stick.




Today, the streets of the country's premier industrial and financial centre paint a gloomy picture of its future. Among the plethora of issues, such as heaps of garbage, sewage and much more, being faced by the residents on a daily basis is the absence of proper lighting on the city's main thoroughfares. The city of lights has few functional lights — most of them remain on the blink due to a variety of reasons, adding to the countless miseries of Karachi's residents.

The street lighting provides numerous important benefits which include improved safety and security for the drivers, riders and pedestrians. Studies have shown that most crashes and fatalities occur during night time. Besides pedestrians and vulnerable road users suffer from decreased visibility in the dark.




"These [lights] never work so we have to make arrangements on our own to brighten up the place so that people stop here and buy fruit," said 18-year-old Muhammad Ashfaq, a roadside fruit vendor in Federal B Area. "From pedestrians to shopkeepers, everyone on both sides of the road gets affected by it but no one raises their voice," he lamented.

Due to lack of illumination on the streets road accidents have become quite frequent and women and children fear travelling down dimly lit streets, causing a significant drop in the sales of local businesses.




"There are so many road accidents occurring. With no lighting on the streets it has become so frequent that we see people getting injured almost every day," said Abdul Rehman, an elderly shopkeeper in Nazimabad.

Talking to The Express Tribune, other citizens shared similar views. Most fear travelling on the gloomy streets owing to rising incidents of street crime being reported. "I can't just risk my life by walking down a place where they [muggers] can easily target me," said a concerned resident of Yaseenabad.

Rulers trade barbs, pass the buck

When Karachi Mayor Wasim Akhtar was approached, he admitted that the responsibility of providing appropriate lighting on the streets rests with the Karachi Metropolitan Corporation (KMC). "I am well aware of this issue and we are working to resolve it with our limited resources," he assured.




He held his own employees responsible for the city's dilapidated situation, including the non-availability of streetlights in many areas.

"We have incompetent people who are never willing to work. I don't understand what the previous administrator was doing," he lamented.
Akhtar, however, partially shifted the blame of poor management of the city's state of affairs on the Sindh government, saying lack of interest on the part of provincial government was causing grave issues for the people of Karachi.

Criticising K-Electric (K-E), the mayor said, "There are issues with K-Electric as well, as sometimes the lights are turned off because of load-shedding in different areas."

Despite his grievances, Akhtar said local government officials had removed over 500 damaged lights which would soon be reinstalled after undergoing repair work at KMC's engineering department. "We can't purchase new lights because of the department's limited capacity," he explained.

The mayor agreed that the lack of sufficient lighting on the streets is one of the causes of rising street crimes and mishaps. "This definitely causes street crimes and accidents. It is in fact a matter of grave concern for law enforcers, as it affects the performance of the closed-circuit television [CCTV] cameras installed at various crossings in the city," he maintained.




More than half of the CCTV cameras installed by the city district government, Karachi police and Sindh's IT department are faulty, sources told The Express Tribune. "At the time of procurement, their quality was compromised. Some of them were even stolen from Lyari," sources revealed, adding that the cameras lacked night vision technology, making it almost impossible for law enforcers to identify suspects engaging in criminal activities at night.

Whenever electricity load-shedding is carried out in a locality, it results in an increase in the crime rate of that area, said a high-ranking police official. "In the absence of sufficient lighting it becomes increasingly difficult for the law enforcers to investigate it as our cameras lack night vision," the official said. "In fact these CCTV cameras are being handled by six different entities, including City Administration, Central Police Office, Traffic Police, Defence Housing Authority, Cantonment Board and private organizations," he explained, adding the entities had little or no coordination.

Meanwhile, speaking to The Express Tribune, Local Government Minister Jam Khan Shoro said the provincial government was not responsible for ensuring lights on the city's streets. "We [Sindh government] grant Rs800 to Rs900 million every year to them [KMC], therefore I don't think it's the responsibility of the provincial government to deal with an issue that falls under the domain of the local government head," he upheld. "It is very unfortunate that he [Akhtar] can't even address the issue of street lights, despite being the Karachi mayor for over a year," he said.




Power outages kill streetlights

There is currently no mechanism in place to stop streetlights from being turned off during area-wise power cuts being carried out by K-E due to shortage of electricity, the power utility company's spokesperson said.

"More than 60% of Karachi is exempt from routine load-shedding but a small fraction of the city is still facing the issue. However, we are working to improve our services in those areas," said Sadia Dada, the director of marketing and communications at K-E. "We have already been very supportive towards any move by the government to develop a mechanism to better facilitate the citizens of Karachi," she said, adding that the organisation was cooperating with town administrations as well as law enforcement authorities for better management of electricity-related issues. "We are always open to dialogue and collaboration."




Delving into the details of the organization's recently launched community building project 'Ujala', Dada said KE has initiated installation of kunda-resistant "aerial-bundled cable" (ABC) and distribution of low-cost metres to consumers to reduce power theft. "Our aim is to eliminate power theft while enhancing the reliability of power supply to our customers which will enable us to achieve our vision of a load-shed free Karachi," she said.




Finding a way out

Although there can be several possible ways to tackle this issue but it seems no one is ready to take the ownership of this derelict city, not even those who claim ownership of its politics and earn billions by milking the metropolis for the last penny possible.

Social activist and #Fixit campaigner Alamgir Khan said the simplest way to tackle the issue would be by empowering the local bodies at the lowest level. He was of the opinion that peoples' elected representatives should be given ample powers and resources, enabling them to resolve the issues of the masses. "Development work is carried out by the local government and this is how it happens around the world," he said. "In the past we also saw this happening in Pakistan. For instance, whenever local bodies were empowered; be it the administration of former mayor Mustafa Kamal or Naimatullah Khan, we saw the results," he said.




The city mayor agreed and went on to suggest that all stakeholders, including the provincial government and K-E officials, should be taken on board to devise a comprehensive plan to deal with the issue.

"We are ready to do everything we can for the betterment of the people."