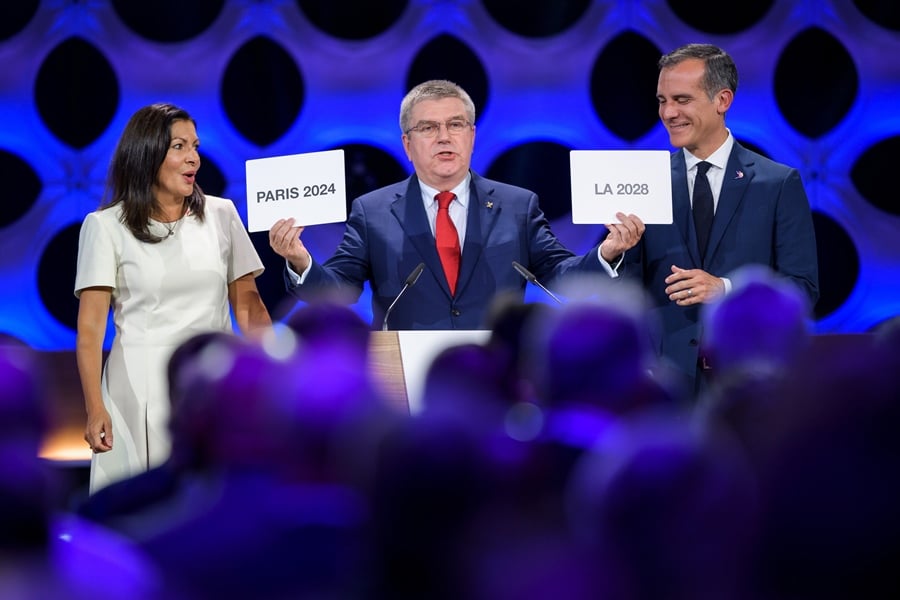 ---
LIMA: The International Olympic Committee (IOC) named Paris and Los Angeles as hosts for the 2024 and 2028 Olympics on Wednesday, crowning two cities at the same time in a historic first for the embattled sports body.

Loud applause rang out at the Lima Convention Centre shortly after IOC members voted unanimously to rubber-stamp a deal hashed out in July for Paris to be given 2024 and Los Angeles 2028.

Paris and Los Angeles bid leaders joined IOC President Thomas Bach on stage as the award was confirmed, embracing after an outcome hailed as a "win-win-win".


ESports hopefuls dare to dream big at Germany's Gamescom


"It's a magical, unique victory," said jubilant Paris 2024 bid co-leader Tony Estanguet afterwards. "I'm feeling an emotion I have felt only rarely in my life."

President Emmanuel Macron hailed the decision as a "victory for France" and said the Games were a "tremendous opportunity" for the country.

Los Angeles 2028 leaders were similarly ecstatic.


Pakistan teenager registers Commonwealth record


"It's thrilling, it was emotional, nerve-wracking and exciting. There wasn't a whole lot of suspense but it was a very special day," bid chairman Casey Wasserman told AFP.

The vote marked the final act of a campaign that had been stripped of the usual intrigue ever since Paris and Los Angeles agreed to carve up 2024 and 2028 in July following encouragement from the IOC.

Paris 2024 officials hugged and cheered following the vote, basking in victory after three previous failed bids to land the 1992, 2008 and 2012 Olympics.

The 2024 Games will mark the third time Paris has staged the Olympics, coming exactly 100 years after they last hosted the Games.

"It's a great feeling of happiness to be bringing the Games back to Paris after 100 years," said Paris mayor Anne Hidalgo.

Los Angeles 2028 officials also expressed delight at the return of the Olympics to US soil.

"There was a real feeling of solidarity, co-operation and happiness which I think is what this movement is supposed to be about," Los Angeles mayor Eric Garcetti told AFP. "For my city I couldn't be happier."