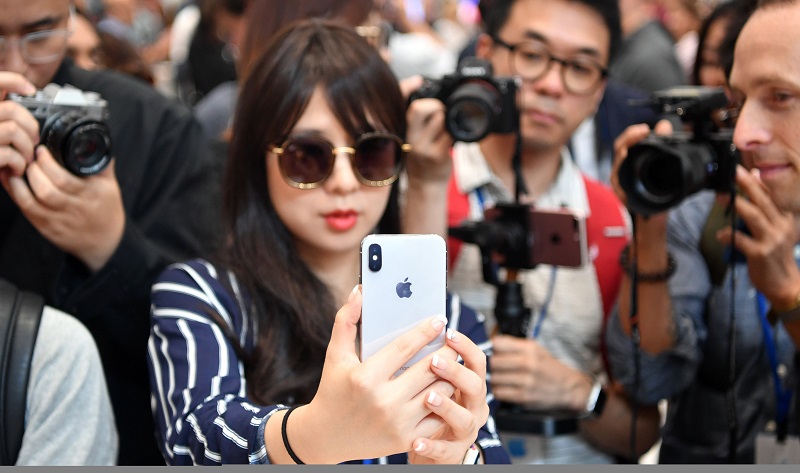 ---
Apple on Tuesday rolled out its much-anticipated iPhone X with an edge-to-edge display that chief executive Tim Cook called "the biggest leap forward since the original iPhone."

With Face ID, Wireless charging and a bezel-less screen, the device is expected to have a grand entry into the smartphone market.

Apple unveils $999 iPhone X to mark 10th anniversary

Heres what Twitter thought of the iPhone X launch.

Of course, it starts with the whopping $999 price tag of the iPhone X.

#AppleEvent

Please choose a payment method for your iphone 8, iphone x, iphone 8 plus.#iPhone8 #iPhone8Plus #iPhoneX #iphonelaunch . pic.twitter.com/PqHqGvrhpO

— Akshay $ingh (@RecognizeAkshay) September 13, 2017
Poor people like me after knowing new iPhones price😀 #AppleEvent #iPhoneX #iPhone8 pic.twitter.com/5mVTplxDji

— RISHABH SINGH (@RISHABHSINGH41) September 13, 2017
Me.. after seeing #iphoneX launching. pic.twitter.com/J7Hfe86GYD

— nrsshaa🌸 (@ChanelQueenn_) September 13, 2017
iPhone 8: no headphones
iPhone 10: no homebutton
iPhone 12: no camera
iPhone 14: no battery
iPhone 16: no phone #AppleEvent   #iphonex pic.twitter.com/wo4Dgdne6F

— رضوان العياش (@rn_t6) September 12, 2017
Me trying to find out how I'm going to afford the iPhone X #AppleEvent #iphoneX pic.twitter.com/5XgN3fGVBG

— Andrew (@Andrew_Sharp01) September 12, 2017
Well, there goes my money#AppleEvent #iPhoneX pic.twitter.com/DArVX4cUTM

— #GeekMeetsWorld 👾🌍 (@Salieu_J) September 12, 2017

The Face ID jokes were a must.

Guy1:Ever since I gifted my gf #iPhoneX I get no late night calls

G2:Why

G1:Bina makeup woh khud ko nahi pehchan pati,phone kya pechanega😹

— SwatKat (@swatic12) September 13, 2017
Arya Stark can unlock any #iPhoneX pic.twitter.com/FfSmsZ1GBB

— Godman Chikna (@Madan_Chikna) September 13, 2017
Face Recognition on #iPhoneX is supposed to have a failure rate of 1 in a million. Staggering. And yet... pic.twitter.com/JySRApDYpZ

— James Woods (@RealJamesWoods) September 12, 2017
The new #iPhoneX can be unlocked by facial recognition. Unless your face looks like this: pic.twitter.com/eGXCWDhFQ8

— Chelsea (@Chelseashow) September 12, 2017
Me in public looking like an idiot trying to get my phone to unlock. #iPhoneX #AppleEvent pic.twitter.com/RqT3LbYC9z

— Chief ◉‿◉ (@TopFlightChief) September 12, 2017

All in all most of the jokes were targeted at the price or Face ID, but for a change, people didn't complain about how the new iPhone hasn't changed much from its previous version.