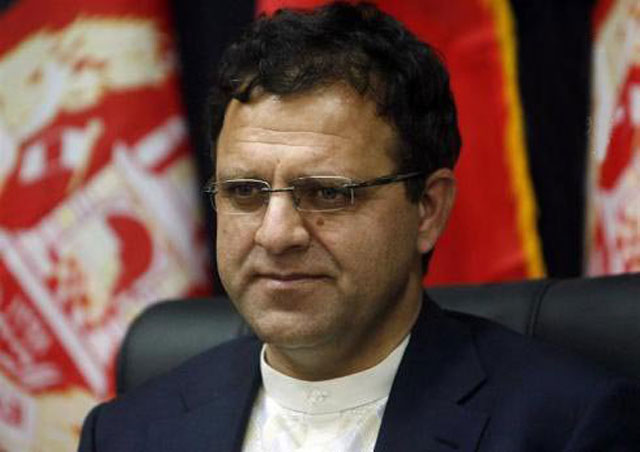 ---
ISLAMABAD: The Afghan ambassador on Tuesday admitted that his country should not allow 'space' to the outlawed Tehreek-e-Taliban Pakistan (TTP) while urging Islamabad to do the same against terrorist groups such as the Haqqani Network.

"Both countries should ensure that no space is given to state and non-state actors to be used against each other," Dr Omar Zakhilwal said while addressing the second round of the Afghanistan-Pakistan Dialogue on Bilateral Reconciliation: Opportunities and Challenges jointly organised by the Regional Peace Institute and Royal Danish Defence College in Islamabad.


Inaugural speech at 2nd Round of Afg-Pak Dialogue, organized by Regional Peace Institute & Royal Danish Defence College today in Islamabad pic.twitter.com/HqBzLzyqXo

— Dr Omar Zakhilwal (@DrOmarZakhilwal) September 12, 2017


"Afghanistan must ensure that its space is not used by the TTP against Pakistan, and Pakistan must ensure that its soil is not used by the Haqqanis and others against Afghanistan," the ambassador added.

Learn from failures in Afghanistan, say experts

Pakistan and Afghanistan have long accused each other of turning a blind eye towards certain militant outfits.

While Afghanistan wants Pakistan to do more against alleged presence of the Haqqanis, Islamabad has its own list of demands, seeking decisive action against the TTP and its affiliates believed to be operating out of Afghanistan.

This is the first time that any senior Afghan figure publicly acknowledged that TTP has sanctuaries on Afghan soil and those were needed to be eliminated.

Zakhilwal conceded that Pakistan and Afghanistan 'have fractured relations that need to be repaired'. "[The] issues are between two states and not between people of the two countries."

Iran agrees Afghan conflict has no military solution

He identified distrust as the core issue between Pakistan and Afghanistan. "It is difficult to have peace in Pakistan if Afghanistan is not at peace," he stressed.

The ambassador admitted that Afghanistan had its fair share of the current deterioration in ties with Pakistan.

"I must admit that both the states have mismanaged their relationship," he said.

"Afghanistan mismanaged it by not keeping the balance between India and Pakistan. And it was a mistake," he admitted.

He went on to add that Afghanistan "should tell Pakistan that its relations with India won't be a threat to Pakistan's security".

"Both countries need to give convincing mutual assurance that national interests won't deter each other's sovereignty."

Pakistan to attend Kabul Process today

He, however, added relations between the two countries should be independent of relations with any other country, urging Pakistan not to get too much worried over Afghanistan's ties with India.

The envoy insisted that Pakistan should know that Afghanistan was not into the business of isolating Pakistan. "A prosperous and well-respected Pakistan will benefit Afghanistan."

He said instead of trusting each other both sides relied on other countries -- including the US and China -- to sort out their differences.

"Our few historical issues could have been dealt with quite differently," he maintained, while referring Pakistan's backing of 'jihad' in the 1980s.

He said Pakistan thought it had the right to dictate governments in Kabul. "And this (approach) is not helpful at all."

Meanwhile, Foreign Office spokesman Nafees Zakaria on Tuesday said durable peace in the region was not possible without the resolution of both Afghanistan and Kashmir issues.

Kabul reacts angrily to targeting of TTP, JuA camps on Afghan soil

"The ever deteriorating situation in Afghanistan has adversely affected the entire region," he said in an exclusive interview with Radio Pakistan.

Separately, talking to PTV, Zakria said Pakistan had made great efforts for Afghan refugees, education and other social sector development projects, besides peace in the region.

Responding to a question, he said Pakistan had expressed serious concerns over the presence and role of India in Afghanistan.

Zakria accused India of involvement in funding banned outfit organisations in Afghanistan to disturb peace of Pakistan.

Responding to another question, he said China and Pakistan had also agreed that military solution was not the solution for Afghanistan.