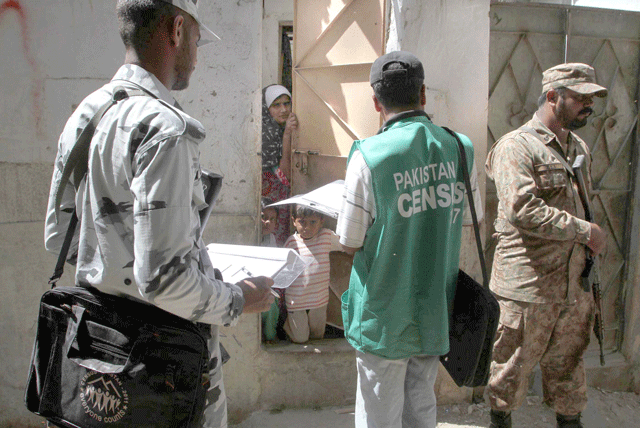 ---
ISLAMABAD: There are less than a million disabled persons in Pakistan, said Asif Bajwa, the interim head of Pakistan Bureau of Statistics, citing provisional data of the 6th population census on Monday.

Speaking at a press conference, Bajwa asked all political parties to end debate on the authenticity of census results after the Inter-Provincial Coordination Committee (IPCC) decided last week to hold next general elections on the basis of provisional results.

According to the provisional figures, Pakistan's total population was 207.774 million, excluding Azad Jammu and Kashmir and Gilgit-Baltistan.

Persons with disabilities constitute just 0.48 per cent of the country's total population, said Bajwa.

The press conference was held to clarify questions raised over the results of the census.

6th census findings: 207 million and counting

Census figures, Bajwa hastened to add, could not be treated as being realistic, as the PBS had decided to separately count persons with disabilities on the first day of the population census on the orders of the Supreme Court.

The number of transgender population (just 10,418) was also unrealistic, as most of transgender persons avoided disclosing their status because of social stigma.

Citing the last census held in 1998, Bajwa, who is now consultant to PBS on Census after his retirement, said that the ratio of persons with disabilities was 2.38 per cent when the country conducted the last headcount.

In absolute terms, there were 3.2 million persons with disabilities in 1998.

Senators suggests reholding census on 1% population

The PBS reluctantly agreed to count such persons only after a three-judge SC bench had ordered it to do so. Transgender population was also counted separately because of apex court directions.

Census data showed that PBS had simply complied with the SC orders without taking adequate measures to implement the orders in letter and spirit.

While delivering the judgment on March 15 this year, the apex court had castigated the PBS after it insisted that various issues had hindered its ability to count disabled persons after the census had already begun across the country.

Bajwa maintained that the PBS had not yet compiled population data sets in accordance with ethnicity so there was no "question of any reduction in share of population of any particular ethnic group".

Bajwa said that after the IPCC decision to amend the Constitution to pave the way for holding next general elections on the basis of provisional results, the debate on the authenticity of results should end.

He said that representatives of all provincial governments attended the IPCC meeting which had unanimously recommended the CCI to amend the Constitution.

Disabled persons in K-P to enjoy basic rights soon

Bajwa said that during the headcount, military personnel had accompanied civilian enumerators, adding that they had also cross-checked the data of 7.5 million households – about 23.2 per cent of total households – with NADRA.

Citing various local and international surveys to support the census results, he said that a survey carried out by the National Institute of Population Studies in May 2016 had projected Pakistan's population at 203 million.

He said that two surveys of the United Nations also support Karachi's provisional population results of 14.91 million. The UN's World Urbanization Report showed Karachi's population to be 16.12 million, said Bajwa. He said that UN World Cities Projection report showed that Karachi's population would be 24.8 million by 2030.

Headcount: Disabled want to be counted in upcoming census

Sindh-based political parties raised objections on provisional results, maintaining that Karachi's population was more than 20 million people.

Bajwa reiterated that PBS had counted Karachi's population "as per urban areas notified by the provincial government".

He said that except for seven Mozas, Karachi urban boundaries remained unchanged since 1998.

By contrast, the Punjab government notified fresh urban boundaries of Lahore in January of 2015, he said.

He said two union councils of Kasur district had been included in Lahore by the provincial government.