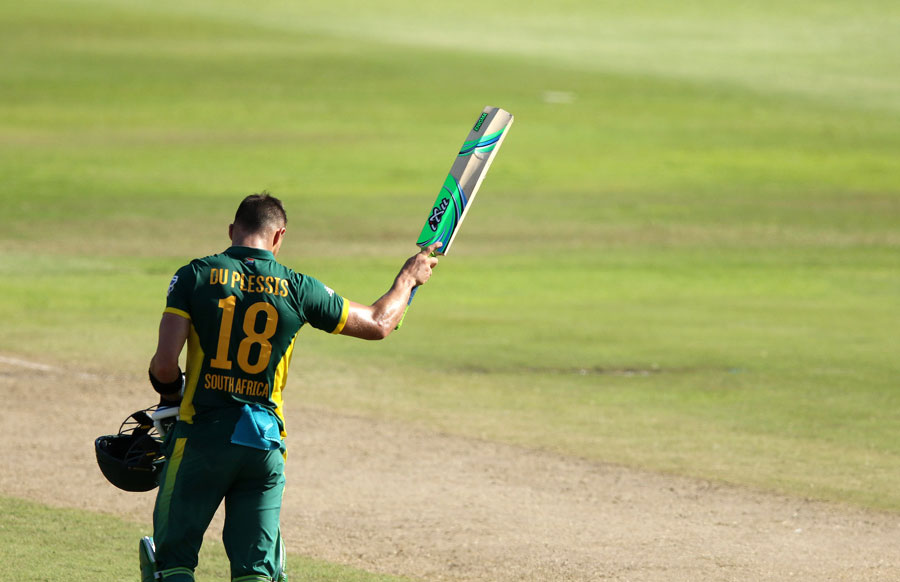 ---
World XI captain Faf du Plessis believes his desire to leave a footprint on the game of cricket is the primary reason he agreed to tour Pakistan.

South Africa captain Du Plessis, while talking to media in Lahore, said that in a few years' time he wants to look back at this tour and feel proud of his contribution.

"It's a huge honour to be here as it's not often that you are playing cricket in a cause which is much bigger than the game," said Du Plessis. "As a professional sportsman, numerous factors played their part. Money was one of it, but what really convinced me was that as a sportsman, you want to leave your footprint on the game. So once Andy [Flower] shared his idea with me, I realised that in a few years' time when I will sit with my family, this is something I can be really proud of."

The 33-year-old added that the last 24 hours have been exciting for him and the whole team.

"When the idea was shared, we thought about different things," he said. "But then we had a word with the authorities, who gave us peace of mind and then we just wanted to get here. The last 24 hours have really been excitement for us. We felt like we are in a movie."

Du Plessis, who is one of the five South African players in the 14-member squad, when asked if he will be willing to bring his national team for a bilateral series in Pakistan, said: "This tour is more about personal choices, but the decision for the national teams' visit to Pakistan will be taken by the board and I have no authority over it."

Talking about on-field matters, the 33-year-old believes the Sarfraz Ahmed-led unit clearly holds an edge. "Pakistan have an edge over us as they play together throughout the year," he said. "We just got together, so it will take some time for us to gel."

I have a special connection with Pakistan: Andy

World XI coach and former Zimbabwe wicketkeeper-batsman Andy Flower revealed that he has a special connection with Pakistan.

"I have great connection with Pakistan and coming here to play cricket shows our commitment to help resume international cricket in the country," said Andy. "It's the first step in a lot of ways — a first in the revival of international cricket for sure. But there is still some way to go."

Andy's younger brother Grant has been working with the Pakistan cricket team for three years as a batting consultant, and the 49-year-old revealed that his brother played a crucial role in convincing him to take part in the Independence Cup.

"We haven't got in touch since I landed here, but we do communicate a lot," said Andy. "I was comfortable with the feedback he gave me. It was not only him, I am also in touch with Mushtaq [Ahmed] and [Mohammad] Akram, who also said positive things."

Independence Cup a monumental achievement: Sethi

Pakistan Cricket Board (PCB) chairman Najam Sethi on Monday credited the Punjab government and law enforcement agencies for making the dream of the Independence Cup a reality.

"I want to thank the Punjab government, the army and other law enforcement agencies for making this possible," said Sethi. "It is a monumental achievement and credit should be given to them."

Sethi also believes that hosting World XI in Pakistan will pave way for other teams to visit the country in the near future. "Such players coming to Pakistan is great news for cricket in this country," he said. "It was a long route and it all started with the Pakistan Super League (PSL) final. Everyone asked me to go on with the plan regardless of whatever was happening in the country, and we did that, which paved the way for this series."

Sethi added that the whole world will have its eyes on the tour. "The whole world will be watching us, and once we successfully organise this series, we are sure other teams will visit the country soon as well."

Sethi deserves credit: Clarke

The head of International Cricket Council's (ICC) Pakistan task force, Giles Clarke, expressed his delight in bringing to Pakistan a team of 'great players'.

"We should've visited Pakistan back in 2011, but due to security advice we couldn't and I am sorry about that," said Clarke. "But I've brought a team of great players, who will provide competitive cricket to the fans in the upcoming series against a tough opposition like Pakistan."

Clarke then went on to give credit to Sethi, ICC's CEO Dave Richardson, PCB's Chief Operating Officer Subhan Ahmed and former Pakistan opener Ramiz Raja. "Credit must be given to Najam, Richardson, Subhan and Ramiz for making this possible," he said. "But Najam deserves a lot of credit, as it all started back with the PSL final."

Pakistan will face World XI in their first T20I on Tuesday at the Gaddafi Stadium, Lahore. The other two T20Is will be played on September 13 and 15.