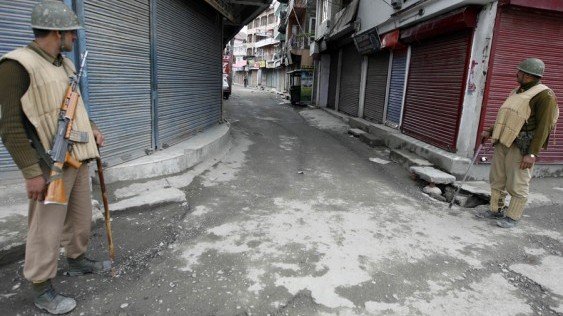 ---
A one-day strike to mark the deaths of two influential leaders closed down shops, schools and businesses on Friday in Indian-administered Kashmir.

The strike was called by the All Parties Hurriyat Conference to remember Molvi Mohammed Farooq and Abdul Gani Lone. Farooq, who was also the chief cleric in the region's main mosque, was murdered by unidentified gunmen at his residence in Srinagar on May 21, 1990.

Lone was killed in 2002, also on May 21, during a function to mark Farooq's death at Srinagar's martyrs graveyard. Kashmiri activists and Indian security agencies blamed each other for the killings. "The strike is to pay tributes to the two great leaders," a Hurriyat statement said.

Witnesses said that the strike closed down shops, schools, banks and offices in Srinagar and other major towns in the state, where Kashmiri activists launched an anti-Indian rebellion in 1989 that has left more than 47,000 people dead. Skeletal traffic plied the roads of Srinagar as the police and paramilitary patrolled the deserted streets.

The strike was also to remember more than 40 Kashmiris who were killed when paramilitary forces opened fire at Farooq's funeral procession two hours after his assassination.

Farooq's son Mirwaiz Umar Farooq, 37, took over the mantle of the party's chief and later on Friday he was to lead a rally at the martyrs graveyard, where his father and Lone are buried.
COMMENTS
Comments are moderated and generally will be posted if they are on-topic and not abusive.
For more information, please see our Comments FAQ