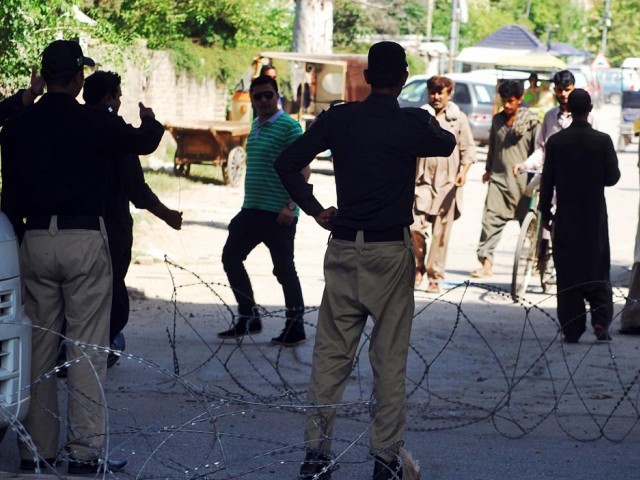 ---
RAWALPINDI: Police have finalised security and traffic arrangements for Defence Day which will be celebrated on Wednesday, September 6 (today).

According to a police spokesperson, Rawalpindi City Police Officer Israr Abbasi has formulated a security plan under which 1,500 cops will be deployed across the garrison city.

Different areas of the city have been divided into zones, sectors and sub-sectors while security arrangements to ensure security have been made including special pickets, motorbike patrolling, special mobile patrolling, elite patrolling and other steps, the spokesperson said.

All entry and exit points of the district have been secured through tight security arrangements while special monitoring is also being conducted at the entry points, the official added.

He said that personnel of the special branch personnel along with the staff of bomb disposal squad, fire brigade and Rescue-1122 would be part of the security plan and perform duties to meet any emergency situation. Further, he said that every sector would be covered by a Deputy Superintendent of Police.

Potohar Division SP would supervise security duties while the overall security plan would be supervised by Senior Superintendent Police- Operations Rawalpindi.

The Rawalpindi City Traffic Police (CTP) has issued a traffic plan for Defence Day which will see the Mall Road closed from 2pm.

According to Rawalpindi Chief Traffic Officer Yousaf Shahid, a comprehensive traffic plan has been issued for September 6 to ensure smooth movement of vehicular traffic.

As many as 24 junior Traffic Wardens, 396 Warden officers, 18 inspectors and in charges along with seven Deputy Superintendents of Police will be tasked with special duties on Defence Day to regulate traffic on alternate routes and ensure smooth flow of traffic on various city roads. Shahid said that he would personally monitor traffic arrangements, adding that the Mall Road, T&T Chowk to Shalimar Chowk, Kashmir Road, T&T Chowk to Chungi 22, Tameezuddin Road, PC hotel turn to CSD, Tufail Road and GHQ gate number 3 to Chungi 22, Iftikhar Janjua Road, University Chowk near EME Mess to GHQ and Masood Akhtar Kiani Road will remain closed for traffic from 2pm until the conclusion of day's programmes.

He said that traffic moving from Sadar to Shalimar Chowk to Peshawar Road will be diverted to Bank Road and reach Mall Road via MH Chowk. Traffic from MH Chowk to Katchery will be diverted towards Railway Road, Kamran Market, Mareer Chowk to reach Katchery Chowk.

No traffic will be allowed towards Transit Camp and Roomi Road and from Military Accounts office to Railway Road during the ceremony.

Published in The Express Tribune, September 6th, 2017.
COMMENTS
Comments are moderated and generally will be posted if they are on-topic and not abusive.
For more information, please see our Comments FAQ