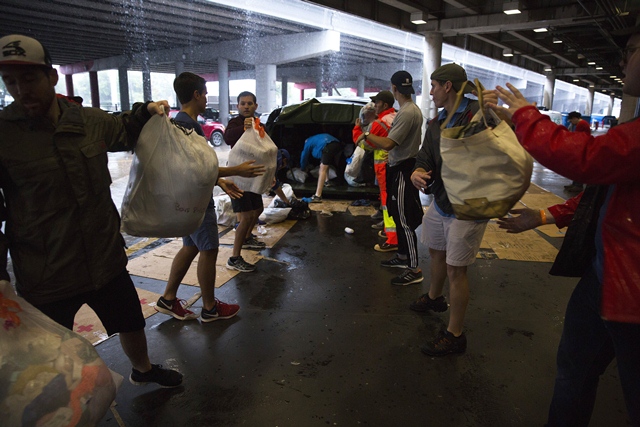 ---
WASHINGTON DC: They're running out of superlatives and statistics to describe Harvey's wrath: rainfall on an unprecedented scale, nine trillion gallons of water and forecasters adding new colors to their charts to better illustrate the maelstrom.

But while the monster storm's damage is projected to run into the billions, the death toll is so far relatively low: three confirmed fatalities, with another six feared linked to the storm. By comparison, in 2005, Hurricane Katrina killed more than 1,800 people, changing hard-hit New Orleans forever.

So, what gives this time? Experts say several factors make the aftermath of the storms very, very different.

It is essentially a question of the sea versus the sky.

Nine dead as hurricane Harvey hits Houston

The biggest danger from Katrina was storm surge: a towering wave of water caused by high winds. In the case of New Orleans, even before that surge, gushing seawater breached levees in a city shaped like a bowl, with some of it actually below sea level. It took days to get the water pumped out.

The failure of the levees along the Mississippi River and elsewhere was sudden and critical, said Brian McNoldy, a senior researcher in marine and atmospheric sciences at the University of Miami. In a matter of hours, because of the levee failure, much of the city was under water.

"If those had held, New Orleans wouldn't be a story right now. We would not even be talking about it," McNoldy told AFP.

To give an idea of how mighty a storm surge can be, he said the 25-footer (8-meter) that hit the coast of Mississippi when Katrina finally made landfall would be enough to destroy a 25-story building.

"If it's is a well-built building, like, you know, big, cement, with steel beams and everything, the frame would probably make it through. There just wouldn't be anything left inside," he said.

On the other hand, Houston got, and is still getting, rain, rain and more rain since late Friday -- perhaps up to 50 inches (1.27 meters) in some places. The National Weather Service says this is the biggest rainstorm it has ever recorded.

Houston floods spark chaos, much more rain to come

But the city is flat, so the flooding has been less abrupt -- "people could get to their rooftops, basically," said McNoldy -- and the water should drain off faster than in the case of North Orleans.

But until then, much of Houston looks like a lake.

And "little streams that usually flow very modestly are now trying to carry huge volumes of water, overflowing their banks. And people are astonished, which they should be," said John Mutter, a Columbia University geophysicist who led an effort to count Katrina's dead.

Imagine trying to get through a natural disaster without your smartphone and social media.

That's what New Orleans did: the storm hit 12 years ago -- when Twitter and smartphones did not even exist yet and Facebook was a year old.

Most of the city was black and poor, and even those who did have cell phones could not use them or their computers because the storm knocked out power and telecommunications networks.

Houston and Harvey are a different story altogether. The power stayed on. Warnings about the storm were all over TV and elsewhere for days in advance. And once it hit, people were able to call emergency services to be rescued.

"Now that we're in the cell phone era, we're better able to hear from folks that are trapped. That's important," said Ed Emmett, chief executive of Harris County, which includes Houston.

Mutter said that if the death toll in Houston is so low at this stage -- "a wonderfully small number for such a big storm" -- he does not expect it to shoot up dramatically.

Hurricane Harvey makes landfall in Texas

"At this time in New Orleans, they did not know it was 2,000 but there were bodies all over the place," said Mutter, who traveled to the city several times after Katrina to study the different ways in which the storm killed people.

Mutter said that in his post-storm trips to New Orleans, he learned that among poorer people there was tremendous mistrust of city government authorities. The storm was forecast properly and warnings were issued, albeit late.

He said the mindset was "government has never done anything for them. Why should they believe them if they say get out of town? And what happens if you don't have a car?"

Houston is a big city where you basically cannot get by without a car. The low death toll so far suggests that people were warned well in advance and ready to act.

"Just about everybody knew at least some way to prepare or get out of town if they could," Mutter said.