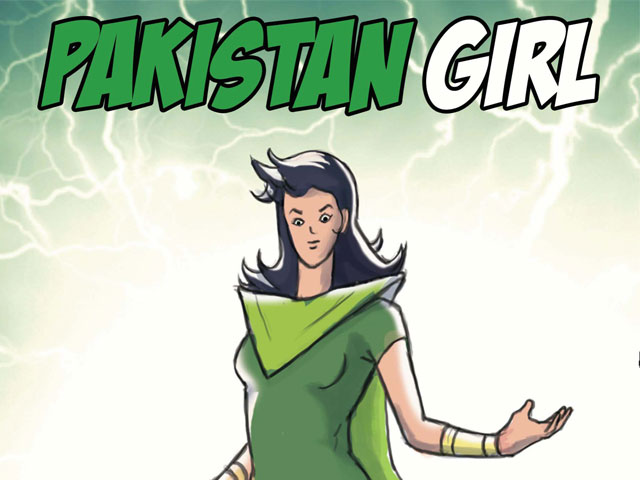 ---
In a biosphere which now hollers that the future is female, it's about time Pakistan rallied its way into the movement. With Gal Gadot slaying as Wonder Woman, Kangana Ranaut leaving footprints globally alongside no male lead in Queen and a cluster of female powerhouses battling against sexism, the world needs more superheroes that aren't male.




PakistanGirl is here to the rescue at an apt time! PakistanGirl is the first-ever female superhero comic book to be launched in Pakistan. Phew! It's about time! Like every other superhero, PakistanGirl has a secret identity.




The story revolves around a girl named 'Sarah' who is a typical young Pakistani who loves to read, has a pet cat and hangs out with friends.




The story kick-starts when Sarah is enveloped by a confusing period in her life – and finally discovers her hidden powers through a freak accident. On her journey, Sarah decides to help people in need and becomes a superhero and a defender of peace.




She decides to utilise her gifts and dedicate her life to the noble cause. She's all set to provide people with hope and inspire young boys and girls globally to be strong and stand up for what's right. That's the motto – alongside promoting women empowerment.

PakistanGirl is the creation of Hassan Siddiqui, a graphic designer and art director from Islamabad, Pakistan.




After his initial success with PakistanMan (The male superhero character) which has been ordered by Harvard University, the library of Congress and is very popular among local schools in Islamabad and Karachi, Hassan decided it was time to launch a female hero in a country which is more or less devoid of female action heroes and role models.




"We wanted her to play a role in gender equality by having a cool female superhero on the front cover of a book. The message of the comic book is that women can also be strong superheros doing the work that's presumably done by men," remarked Hassan, adding, "This young girl is relatable to any and every Pakistani girl who isn't afraid to speak her mind. She's truly going to be a role model."




PakistanGirl artwork came into being courtesy of talented artist Ali Hyder who works with Mano animation studios in Karachi. The remarkable artwork of this superhero comic book makes it one of the most visually appealing comicons in the history of Pakistan.




The costumes and general appearance for PakistanGirl has been derived by borrowing inspiration from the traditional shalwar kameez dress that women commonly wear in Pakistan.




The comic book was launched on August 22, 2017 and will be available in all the local book stores and cafes in Islamabad and Karachi including Liberty books, Saeed Book Bank, Mr Books, Chaaye Khana among others.

As for the first-ever female superhero representing Pakistan, the brains behind the project, Hassan further shared, "PakistanGirl will open even more opportunities for women heroes to be appreciated as inspirational role models amid Pakistani society."


PHOTO: PUBLICITY

He further elaborated, "It will also provide hope for young girls – as in now they will have just as strong a woman superhero as there have been male superheroes in the past. Now they'll have a hero of their own to look up to."

After all, PakistanGirl isn't just a female superhero Pakistan needs, but one that women in this country deserve.

Have something to add to the story? Share it in the comments below. 
COMMENTS
Comments are moderated and generally will be posted if they are on-topic and not abusive.
For more information, please see our Comments FAQ