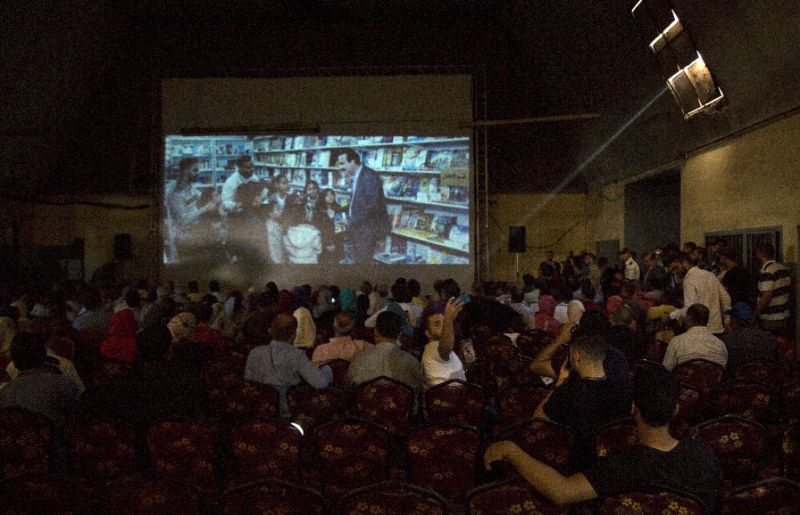 ---
GAZA CITY, PALESTINIAN TERRITORIES: Several hundred Gazans went to the cinema on Saturday for the first time in more than 30 years, albeit for one night only.

The long-abandoned Samer Cinema in Gaza City, the oldest in the strip but closed for decades, hosted a special screening of a film about Palestinians in Israeli prisons.

About 300 people of both sexes attended, with men and women not segregated by gender and despite the lack of air conditioning on a hot and humid evening.

The Hamas group has ruled Gaza for 10 years and there are currently no functioning cinemas in the Palestinian territory where two million people live in cramped conditions under an Israeli blockade.

Gaza power cuts causing humanitarian crisis: World Bank

Ghada Salmi, an organiser, told AFP the one-night showing was 'symbolic' of wider efforts "to bring back the idea of cinema to Gaza".

Jawdat abu Ramadan, a member of the audience, said he wanted to see a permanent cinema in Gaza. "We need to live like humans, with cinemas, public spaces and parks," he said.

The Samer Cinema was built in 1944 but shut in the 1960s. The enclave's remaining cinemas closed in the late 1980s during the first Palestinian intifada, or uprising. There was a fire at one cinema in 1987 which was widely thought to have been the work of militants who consider cinema ungodly.

"The rest of the cinemas were scared to show films after that," Salmi said.

Ironically, according to French historian Jean-Pierre Filiu's 2012 history of Gaza, the Muslim Brotherhood's Gaza branch - from which Hamas sprang -- held its founding conference at the Samer on the Islamic new year in 1946.

"Ten Years", the feature-length film screened on Saturday, was made in Gaza with volunteer actors and tells the story of Palestinian prisoners in Israeli jails.

Salmi said it does not focus on the wider politics of the Israeli-Palestinian conflict, instead telling a human story.

Saturday's showing went ahead with the approval of Hamas.
Nermin Ziara, who appeared in the film, said she wanted to see a cinema open as "society needs to develop through films and documentaries". Ziara said she did not think the Islamist rulers should or would block such moves.

Israel legalises settler homes on private Palestinian land

"I don't think there is a problem with opening a cinema with Hamas as it is a place of art," she told AFP. "We as Palestinians need to have a large space for art."

In May, a rare festival showcased films focusing on human rights issues, with outdoor screenings at Gaza City's port. Other films have occasionally been shown in rented halls.

Gaza is still recovering from the last of three wars with Israel in 2014, when more than 2,000 Palestinians were killed and much of the strip was devastated. Seventy-four people died on the Israeli side, most of them soldiers.
COMMENTS
Comments are moderated and generally will be posted if they are on-topic and not abusive.
For more information, please see our Comments FAQ